Yas Marina Circuit - A Racer's Heaven in Abu Dhabi
Posted On 18-Sep-2023
Only a 30-minute journey from Abu Dhabi, Yas Island is home to the Yas Marina track. The opportunity to discover many more interesting things outside of the racecourse is what makes it unique. You may enjoy a waterpark, a theme park, hotels, houses, and beaches.
For fans of racing, it's an exhilarating journey. It was designed by renowned racer and architect Hermann Tilke. The track offers thrilling challenges for the greatest Formula One drivers in the world because of its remarkable design.
Yas Marina Circuit Track in Abu Dhabi Fascinating Highlights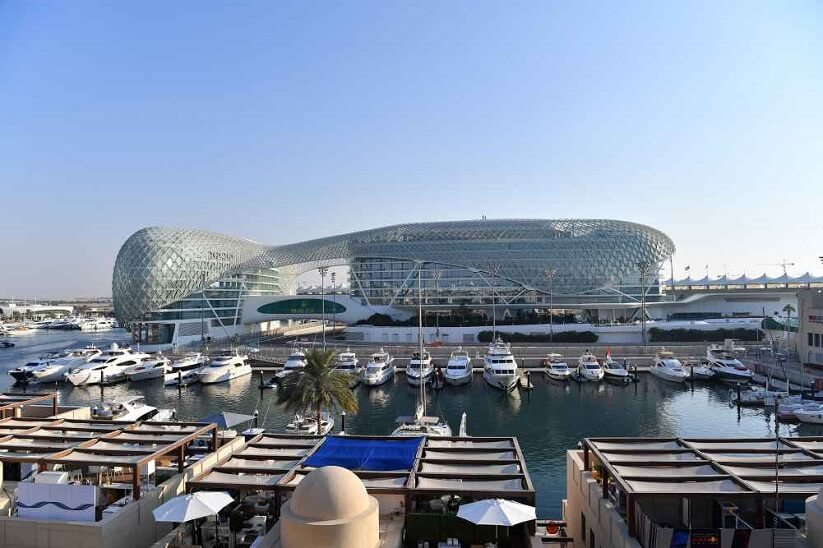 The track's layout, which boasts an astonishing 21 turns, was carefully considered by the track's designers and engineers. Awe-inspiring views of Abu Dhabi's Marina and the Yas Hotel may be seen while navigating these bends.
The distinctiveness and character of each turn and twist are what distinguishes this course from others. The North, South, Main, West, and Marina Grandstands are among the circuit's five grandstands. The Media Centre, Team Building, VIP Tower, and Dragster Track are additional amenities.
Some validities & stats of this channel
Lewis Hamilton has won five races at the renowned Yas Marina Circuit, a remarkable accomplishment. This route, which is roughly 5.5 kilometers long, offers breathtaking views of the luxurious yachts docked at the Marina.
The track holds the record for the longest straightaway in the world, measuring over 1,173 meters. Here, racers can reach astounding speeds of up to 325 km/h, with an average speed of about 190 km/h. Drivers must complete 55 laps in total, showcasing their prowess along the route.
Where can I get a good view of the action on this circuit?
The greatest views for each fan have been carefully planned, according to the track's official website. It's equally as thrilling as a dune-bashing tour in the Abu Dhabi desert. Each grandstand has excellent sightlines, and there are a staggering 60,000 seats available overall.
There are a total of six main viewing zones for these seats. At the 11th turn, the South Grandstand provides an excellent vantage point to watch spectacular overtakes by Formula One drivers. Abu Dhabi Hill is another hub of thrilling activity, as drivers ferociously compete for positions.
Also Read: Dubai Gold Souk
Yas Marina Circuit Outlines and Facts:
This racecourse is around 5.55 km long and covers a roughly 161.9-hectare area, with a straight part that is 1.14 kilometers long.
This circuit was made by famous designer Hermann Tilke, who drew on his enormous expertise in building prestigious courses all around the world.
A staggering 1.3 billion dollars have to be invested to complete this circuit. To complete the Yas Marina Circuit, it assembled a dedicated staff that diligently put in over 35 million hours.
This circuit, which hosts the Formula One Grand Prix of Abu Dhabi, has witnessed numerous crucial races over the years that have included intense Formula One competitions. It is astounding that it can accommodate up to 50,000 spectators, providing for their comfort and protecting them from the stifling summer heat.
Ventures at Yas Marina Circuit
Steer a SuperCar by yourself:
This racecourse offers visitors an unmatched chance to fully immerse themselves in the Formula One world as a driver. If you choose to take part in Drive YAS, you have the opportunity to select the Formula One car of your dreams from an impressive range, including iconic models like the Ferrari 458 GT, Mercedes-AMG GTS, and Aston Martin GT4.
This rare opportunity grants you a 20-minute interaction that is certain to go down in history as one of the most amazing experiences of your life. A thrilling karting expedition in Dubai is another option if you have a passion for speed. It promises to be an exhilarating journey.
Glance Go-Kart Event
Regardless of your age, you can have pure joy while watching the YAS Kartzone. You will get the chance to experience the thrilling world of karting up close here. They provide karts and other necessary equipment for anybody who wants to go track karting. It promises to be a unique opportunity for racing enthusiasts to watch high-caliber karting thrills unfold on the circuit.
Stroll around the track in the Evening or Night
The aforementioned transformation offers a once-in-a-lifetime chance to immerse oneself in breathtaking vistas of sparkling stars and serene sunsets. Additionally, once night falls, the track transforms into a mesmerizing display that is decked out in brilliant illumination. This circuit does, however, still offer the option of exploration and enjoyment during the daytime since it is open to visitors then.
Participate in the wonder that is Formula One racing
Visitors can purchase tickets to see the thrilling Formula One Grand Prix racing at this specific location. This event is one of the most thrilling in Abu Dhabi and is sure to pique your interest.
How to Arrive at the Location without Facing Any Hassle?
Using the Yas Express makes it simple to gain access to the famed Yas Marina Circuit. This free transport service runs continuously from 9 AM to 9 PM every day, ensuring a quick and easy pick-up and drop-off process. You can also choose to use one of the many reasonably priced taxi services that offer direct transportation to the circuit's entrance.
Entry tickets
Please be aware that admittance to the Yas Marina Circuit requires the purchase of an entry pass, which is not free. However, admittance costs vary based on the grandstand that is selected, with costs ranging from about 119 AED to 477 AED.
Best Time to Stop by
It is highly recommended that you visit this circuit during a racing event. It's wise to show there early in the morning during these periods. This guarantees a smoother experience and lessens the possibility of running into crowds.