Dubai's Ibn Battuta Mall - A Shopper's Dream Location
Posted On 09-Oct-2023
One of the largest retail malls in the city that travelers must visit is the Dubai Ibn Battuta Mall. It bears the name of the illustrious intellectual and explorer Ibn Battuta. You can indulge in opulent shopping, relaxed activities, delectable cuisine, and compelling entertainment here.
Also Read: Heritage Village Abu Dhabi
Ibn Battuta Mall in Dubai: Detailed Information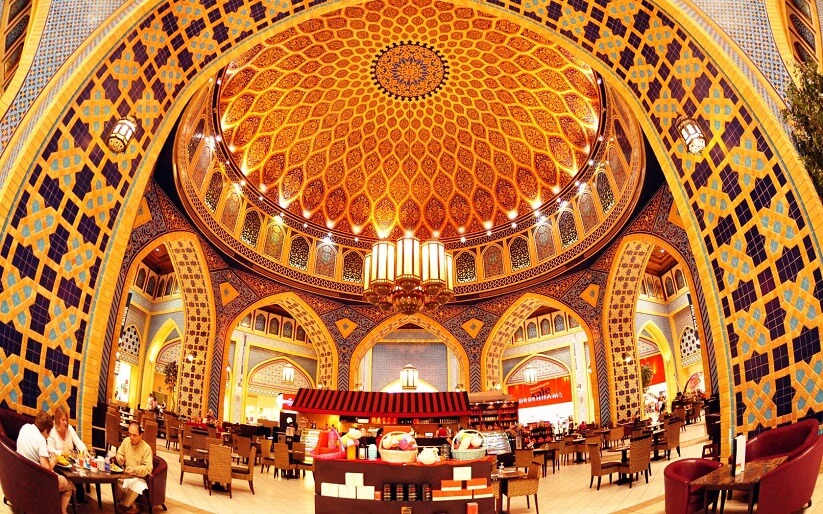 This mall will attract you if you plan to visit Dubai during the shopping festival. Each of the six distinct zones, which include Andalusia, India, Egypt, Persia, China, and Tunisia, represents a separate artistic tradition.
This mall is a wonderful choice if you're looking for a tonne of places to shop. The Ibn Battuta Mall has a variety of restaurants with delectable cuisine. Excellent theatre experiences and wonderful retail areas are provided by its entertainment options.
The mall offers services to people of all ages and genders. Ibn Battuta Mall is home to a wide variety of shops and boutiques that sell a wide range of goods, including furniture, accessories, home decor, recognized international fashion brands, cosmetics, modern gadgets, and more. We've selected a few of the mall's interesting businesses below.
CATH KIDSTON:
You may find the exclusive line of children's accessories and apparel created by renowned designer Catherine Isabel Audrey on this website.
CARTER'S:
This business is a good option if you're searching to buy baby clothes in Dubai.
SWAROVSKI:
This particular store has won praise for displaying magnificent jewelry and accessories set with sparkling jewels.
ALDO:
For individuals looking for fashionable shoes and accessories, this location will be a lovely retreat.
ECCO:
With an emphasis on outstanding leather shoes, ECCO offers a handpicked collection of the newest and most stylish footwear in the energetic city of Dubai.
SEPHORA:
This store will completely satisfy your needs if you're looking for premium cosmetic products.
Exciting Things to Do at the Ibn Battuta Mall in Dubai
1. Shopping
As previously said, this mall is home to several top-notch retailers selling a wide range of goods in a variety of categories, including apparel, cosmetics, trendy items, electronics, footwear, travel necessities, toys, and many lifestyle options.
2. Dining
Due to the abundance of restaurants, food courts, and cafés in this shopping paradise, visitors will enjoy delicious gastronomic experiences. You'll find a fusion of regional and international cuisines here, featuring mouthwatering Italian and Asian dishes, among others. The establishment provides a selection of superb dining alternatives, including well-known brands like:
Pizza Express
McDonald's
Subway
Yo Sushi
Cold Stone
TGI Friday's
Keventers
Starbucks
KFC
Its boundaries easily house Baskin Robbins as well as numerous other businesses.
3. Kids' play zone
Children can have fun in this store by playing about, jumping on bouncy mats, and participating in numerous activities. Taking the family to Chuck E. Cheese is a terrific option because it allows for a happy day packed with games and family time.
4. Movie time
The Novo cinemas in Dubai is a fantastic location to see the newest films. This movie theatre offers a large selection of films in several languages, including thrilling IMAX and 3D blockbusters that its patrons adore. It also boasts a lively bar and restaurant that draws lots of guests looking for a fun and relaxing time.
5. Spa
Fortunately, the city has wonderful health retreats where you may indulge in revitalizing spa services and soothing massages to unwind your body and mind, especially after seeing the immense splendor of this shopping region.
Other services
The personnel at this business not only offer a broad variety of interesting items, but they also take exceptional care of their devoted customers. We've simply mentioned a few of the excellent services offered in Ibn Battuta Mall.
ATM facility
Wheelchairs
Lost and found facility
Baby changing rooms
Valet parking
Personal emergency assistance
Paid shuttle service
Car wash services
Prayer rooms
Currency exchange
About the Dubai Ibn Battuta Mall, three important facts:
This alluring shopping destination boasts six magical courts created just for tourists.
It is the largest themed mall in the entire world. Ibn Battuta's explorations of Egypt, Andalusia, China, Persia, India, and Tunisia served as inspiration for each court. Ibn Battuta Mall.
This masterpiece was opened in 2005, has more than 300 amazing businesses, and offers parking for more than 5,000 vehicles.
How to reach?
Driving is the quickest way to get to the upscale Ibn Battuta Mall. You can exit at Interchange 5 and continue straight on Sheikh Zayed Road in the direction of Jebel Ali. At the next intersection, turn right to enter the mall. The bus, Dubai Metro, and RTA taxis are other ways to get to the mall.
Timings
Ibn Battuta Mall is open daily from 10 AM to 10 PM and stays open until midnight on Thursdays through Saturdays, giving you plenty of time to peruse its offerings.
Optimal visiting hours
Consider spending an entire day exploring Ibn Battuta Mall to get the most out of it. The mall's extensive layout ensures an entertaining day while allowing you to arrive at your leisure and fully appreciate each moment.
Entry Fees details
It's noteworthy that there are no entrance fees or any costs for guests to access the mall; it's free.