Visitor's Guide to Al Marmoom Heritage Village in Dubai
Posted On 30-Oct-2023
The culturally inclined people in Dubai have a soft spot for the Al Marmoom Heritage Village. It takes place in the spring each year and is all about showcasing the incredible Khaleeji heritage, including the well-known Dubai camel racing and other intriguing events. It's a wonderful opportunity to take in the splendor of the regional culture.
You can go shopping for mementos and discover a lot of surprises. There is a wide selection of exquisite handcrafted goods. You can also enjoy live music and delicious local cuisine. Of course, don't miss the fascinating Al Marmoom camel racing, a performance that brings a timeless custom with a rich historical background to life.
Also Read: Lamcy Plaza Dubai
Activities to enjoy at Al Marmoom Heritage Village.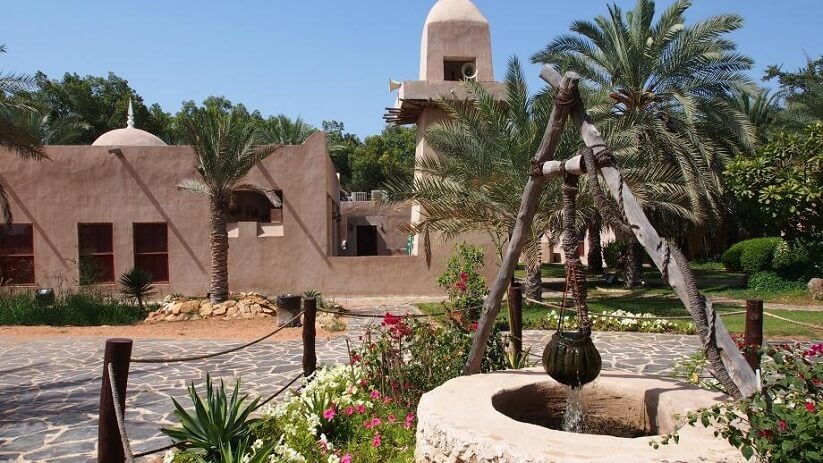 Camel Race:
Go directly to the Al Marmoom Camel Race to kick off your trip with a spectacular view of a herd of sixty camels racing at a constant 40 km/h. It's a sight to remember. Robotic jockeys steer the camels, and their owners follow closely in four-wheel drives, applauding their beloved animals.
You can fully immerse yourself in the local way of life at Al Marmoom Heritage Village. One of the most well-known sporting events on the calendar each year is the magnificent Marmoom Camel Race Festival, which attracts sizable audiences.
It is Al Marmoom Heritage Village's major draw. As you witness this age-old custom, which has been ingrained in the area for many generations, you can't help but observe the notable development and enhancement it has experienced recently, as demonstrated by the vibrant celebration.
indigenous Boutiques:
Indulge in a quick shopping excursion in the neighborhood stores, where you may purchase mementos to cherish your time spent in this distinctive desert setting that has been skillfully merged with contemporary city life. It's an amazing adventure to remember!
Delights:
Enjoy delicious regional cuisine at these establishments. The cuisine is authentically traditional and is made with extreme care. Its appealing perfume captivates the senses and its delightfully spicy taste is exhilarating.
Live Shows:
Explore the captivating artwork created by talented local mesmerizing meperformancesre sure to enchant you. Deep resonance and a spell-like effect that lasts long into the night surround your senses with captivating magic as a result of the music.
Stargazing:
Savor the breathtaking view of countless stars adorning the celestial sky on velvety desert nights. Stargazing, with its profound cultural and historical significance in the United Arab Emirates, is undoubtedly one of the highlights of your visit to Al Marmoom Heritage Village. You will learn how to read time from an experienced guide and how to use celestial patterns to navigate the desert. Your stargazing expedition will be more romantic if you set up an overnight camp for your heavenly journey.
Take advantage of the fascinating Astrotourism excursions that the Dubai Astronomy Group has to offer. These outings improve your experience with stargazing. The club hosts frequent excursions that offer an amazing opportunity to combine your love of astronomy with the adventure of traveling through the desert.
To conclude our list of activities at Al Marmoom, we invite you to read our in-depth analysis of Dubai's overnight desert safaris for further desert experiences. Don't miss our in-depth guide on desert camping in the United Arab Emirates if you're serious about making the most out of your camping trips. Furthermore, entertainment doesn't always have to be expensive in some parts of the United Arab Emirates. Explore our list of free things to do in Dubai to pique your interest.
Although there is no charge to enter the town, there may be a minor price for certain individual attractions.
The Bedouin Lifestyle:
Looking for a genuine Bedouin adventure in Al Marmoom? Traveling through the desert on camel caravans is a real experience and something you have to do when visiting Dubai. You go with knowledgeable guides who share the Bedouin tribes' skills for surviving in the desert.
Discover a customary majlis, become proficient in the age-old sport of falconry, and pay a visit to a Bedouin-style community tucked away in the stunning Al Marmoom Desert Conservation Reserve. The culmination of this fusion of experiences is an incredible Bedouin journey in Al Marmoom.
Many service providers provide a variety of packages that can be customized to your specifications regarding quantity and the particular desert activities you want. Consider Platinum Heritage, which offers a package called "Al Marmoom Desert Experience" that is very alluring. For AED 495 per adult, this package includes the aforementioned activities as well as traditional Bedouin cuisine.
FAQs: Common Questions Regarding Al Marmoom Heritage Village
Is there a particular attire requirement for the village?
No, there aren't official dress codes, but it's a good idea to dress modestly out of respect for the community's culture and to avoid unintentionally offending anyone.
Is there any risk involved with competing in the camel race?
You can be sure that the highest level of safety is maintained during camel racing. Robot jockeys have taken the position of human riders in the present day, and extensive safety precautions are carefully put in place to guarantee everyone's safety.
Is it permitted to snap photos of residents wearing traditional clothing?
You can ask for their permission in advance before engaging in a picture opportunity.
Is Al Marmoom Heritage Village admission fee-based?
There is no cost to enter the community. Please note, nevertheless, that there can be extra costs connected to some of the on-site attractions.
How is Al Marmoom Heritage Village accessible?
Bus:
You can take the 13B bus to Al Marmoom Dubai Camel Racing Club from Dubai International Airport to get to Al Marmoom Heritage Village. Get off at the designated stop. Remember that the trip will take about one hour and forty-five minutes, and the price of the ticket is AED 23.5.
Car:
From Dubai International Airport, take the picturesque E66 route through Al Ain to your destination. The trip will take approximately 29 minutes, covering a total distance of 43 kilometers.
Can we get up close or touch the camels?
Of course! It's recommended to get up close and personal with the camels. These cuddly animals are open to photography and are friendly. If you'd like, you can even give them a soft pat.