Heritage Village Abu Dhabi - Unleash The Rich History
Posted On 02-Oct-2023
Visitors can get a taste of the traditional way of life in the desert region at Abu Dhabi's Heritage Village. Here, you may learn about Abu Dhabi's past and take part in a variety of activities like shopping, witnessing potters create their work, and stumbling upon antiquities. All of these activities are fantastic to do while you are here.
Undoubtedly, visiting this location is a truly captivating experience that broadens one's understanding of Bedouin culture. Anyone planning a trip to Abu Dhabi's Heritage Village needs to know the facts listed below.
Abu Dhabi Heritage Village - Alluring Outlines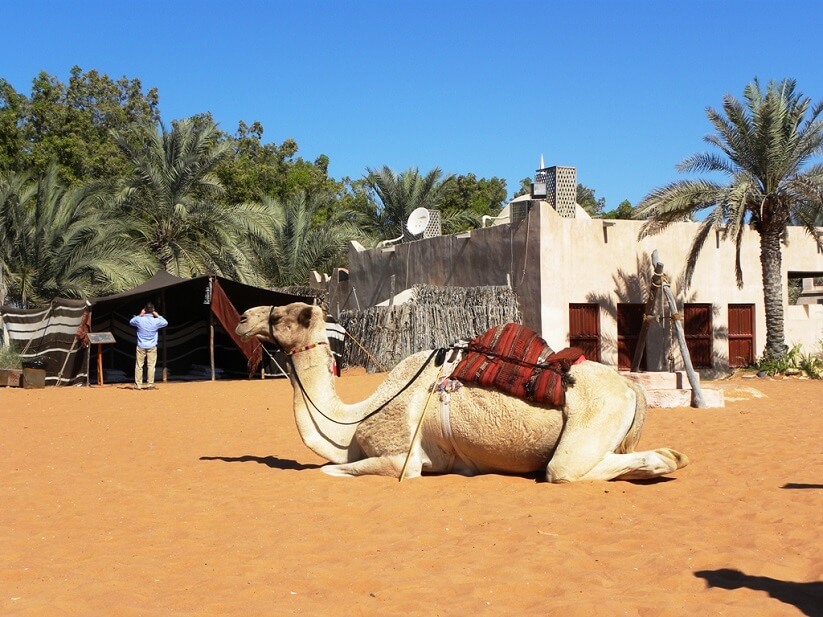 You'll learn about the artistic aspects of true nomadism.
Spend some time shopping and pick up some ceramics, clothing, metal crafts, and handcrafted soaps.
Explore the area to find many hidden gems, including stone homes and thatched huts.
Take in the breathtaking views of Abu Dhabi's skyline after visiting the beach close to the Heritage Village.
Add a classic touch to your hands with mehendi or henna tattoos.
Learn traditional trades like spinning, weaving, and ceramics through immersive classes.
Also Read: Al Bidyah Mosque
Nearby Landmarks the Heritage Village's vicinity:
The Corniche of Abu Dhabi's Emirates Palace
Preeminent Marina Hall
All of these are conveniently close to the village by foot
Time to Unleash:
Spend a few hours exploring Heritage Village to get the whole experience; it's as fascinating as an Abu Dhabi desert safari. Don't pass up the chance to sample the delicious local cuisine here if you have the extra time.
Facilities:
Be mindful of the heat when visiting the Heritage Village. Use the benches and shaded spots for a relaxing respite from the heat at a time when the weather is milder. Here are some activities you may do in Abu Dhabi's Heritage Village H2 Despite Abu Dhabi's many stunning monuments, you might not be familiar with the customs of the desert. Abu Dhabi's Heritage Village is without a doubt a well-liked tourist destination due to its authentic view of the old emirate way of life.
Heritage Village Beach:
The Abu Dhabi Heritage Village gains from the proximity of this special destination. This well-known beach in Abu Dhabi is a popular tourist destination and offers breathtaking views of the Arabian Gulf.
There is a little section of white sand that offers a fantastic view of Abu Dhabi's magnificent metropolis.
You'll come across vintage ships and traditional dhows as you explore, showcasing the area's rich cultural history. Beachwear is not appropriate for this encounter, kindly take note.
The Heritage Village Museum:
The Museum of Heritage Village offers a wide range of fascinating experiences to keep you thoroughly interested. An authentic Arabic emblem depicts the remarkable transformation of the emirates from a tranquil village to a bustling metropolis.
This museum also showcases local culture through a painstakingly organized display of antique weaponry and precious traditional jewelry.
A copy of the Quran that has been painstakingly transcribed is one of its presentations. You may also check out a replica of the state-of-the-art irrigation system the UAE uses to maintain its palm trees.
Enjoy Shopping:
You will surely have the opportunity to discover Abu Dhabi's rich past at this intriguing place.
Furthermore, you can buy genuine trinkets that evoke the area's affluent nomadic past. You can purchase a wide range of traditional handicrafts and artifacts while you explore.
Additionally, there is a charming spice store well known for its herbs and handcrafted soaps.
Additionally, a tiny market invites you to haggle to your heart's delight. Inside, you'll find stalls selling ethnic clothing, wool rugs, sterling silver jewelry, purses, and henna. You may also find locally produced goods like T-shirts, UAE keychains, and other things.
Closest Restaurant
After a day at the beach and shopping, head to Heritage Village Abu Dhabi if you're still hungry. The gourmet haven known as Catch at St. Regis is located here, and it offers a delicious selection of Mediterranean culinary treats that will please even the most discriminating palates.
Additionally, the renowned Al Asalah restaurant, which serves a wide variety of mouthwatering culinary masterpieces, is close by. You may sate your appetite at a variety of neighboring restaurants in the Corniche district and the Marina Mall.
How To Reach?
By bus:
You can board any bus with the numbers E306, X13, 29, 8, or 21 to travel to this wonderful location. Alternatively, you might arrange transportation or rent a car to get there.
By metro:
A practical way to go to the Heritage Village described before is to begin your journey by taking the metro at Al Ghubaiba Metro Station 2.
Expanse:
You may explore all of the attractions at the Abu Dhabi Heritage Village at no cost because admission is entirely free.
Entrance Timing
On weekdays, from Saturday through Thursday, this site is open from 9 a.m. to 4 p.m., with Friday hours being 3:30 p.m. to 9 p.m. The townlet should be thoroughly explored in about 90 minutes.
Optimal Visitation Duration:
On Thursdays and Wednesdays, it's ideal to go between 9 and 11 a.m. for the finest experience. Because local schools frequently visit in the afternoon, this period is preferred. On the other hand, it's preferable to avoid Mondays, Tuesdays, and Sundays because these days tend to draw more tourists and larger crowds.