Al Montazah Aquatic Park - Sharjah's Ultimate Water Wonderland
Posted On 23-Oct-2023
Sharjah's Al Montazah Aquatic Park, also known as the Gems Realm Aquatic Park, is a well-liked tourist destination. It offers tourists a variety of distinctive features. On the shores of Flag Island, this opulent resort was built for AED 100 million.
The park's layout is superb, with themes like enthralling tales, daring pirates, lost treasures, enigmatic space, and several more captivating concepts. Without a doubt, this location is a must-see for travelers, where you may enjoy yourself with your loved ones.
Also Read: Lamcy Plaza Dubai
An Overview of Al Montazah Aquatic Park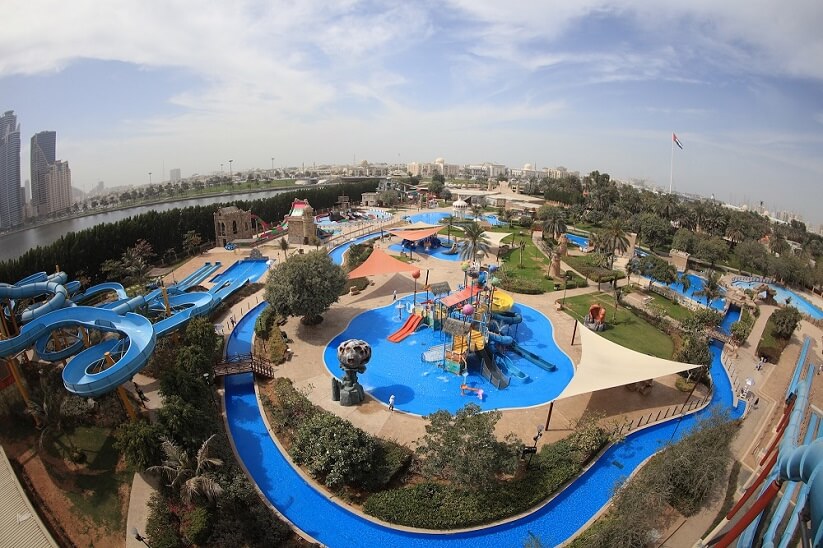 Getting to Al Montazah:
Al Montazah is easily reachable from Dubai by automobile, and the journey there should only take a few hours. Depending on traffic, it will take you about two hours to reach Al Montazah if you're coming from Abu Dhabi. As an alternative, you can get to Al Montazah Water Park by using public transportation. Simply take a bus to Sharjah's Al Jubail Bus Station; from there, it will only take you three minutes in a cab or five minutes to slowly walk to the waterpark.
History:
A fun place for families, the water park is brimming with joy and excitement. Along with several opportunities for relaxation and practical facilities, it offers a variety of thrilling water attractions.
This exhilarating Sharjah attraction is conveniently accessible from all Emirates and is situated next to the Government Departments Complex, the Central Market, and Khalid Lagoon, ensuring a hassle-free visit. Notably, it has quickly become one of the most popular tourist sites in the UAE.
Nearly 500 parking spaces are available at Al Montazah Water Park, including places specifically set up for handicapped visitors. You'll find additional conveniences on Flag Island, which is close to Sharjah's spectacular destination. Its acceptance of the esteemed Sharjah Tourism Excellence Award in 2014 is one notable accomplishment.
This affirmation strengthens its position as one of the area's best and most creative tourist spots. Thanks to its exceptional amenities and broad choice of top-notch services, this location has developed into a significant hub that attracts tourists from all over the world.
Enjoyable Activities in Al Montazah Water Park
This exciting water park offers the utmost in thrills with its vibrant band of enthusiastic pirates, magical riches like flying carpets, opulent palaces, strange cosmos, and more.
The famed Pearls Kingdom is located in the center of this realm and provides an opportunity for family bonding experiences to be rrememberedforever Prepare yourself for a day of nonstop excitement and anxiously anticipated entertainment that will certainly be in your mind forever.
The Forgotten Valley:
A magical location full of wonders and excellent entertainment, Water Land is. Many adventurous explorers have embarked on perilous expeditions in this area in search of fantastic treasures and other alluring attractions. While searching this wide area for the fabled lost treasures, you can come across a variety of marvels buried beneath the forgotten valley.
Pirate's Coast:
For children looking for exciting adventures, Pirate's Coast is a mesmerizing paradise surrounded by an infinite sea of delights. This location's incredible variety of distinctive characteristics is s responsible for its widespread recognition.
Get ready for a journey over choppy rivers and a breathtaking ascent of a huge mountain. You are inspired by this world's legendary alluring blend of adventure and enchantment to explore the deep blue and rescue stolen pearls and jewels from the secret pirate hideout.
The Flying Carpet:
With the revealing of a great and singular masterpiece, the incredible and unique soaring tapestry, Water Land's magic endures. Prepare yourself for an extraordinary adventure that will take you to new heights with this magnificent work of art. You experience unbridled ecstasy as you soar, as though you are flying weightlessly in the air. It provides a peaceful, uplifted sensation that goes beyond the limitations of the earth.
The Fort:
A massive and towering stronghold known as the majestic Fort greets you inside the Water Park. It instantly transports you to a fantastical world where you become enthralled by the surroundings' sheer splendor and attractiveness. This location embodies excellence and elevated magnificence. Take advantage of the opportunity to discover the mysteries concealed within these ancient walls as you set out on an intriguing trip that will fascinate your senses.
The King's Palace:
Within the boundaries of Water Land, you can explore the magnificent home known as the King's Palace, where everything exudes an air of adventure and bravery. You feel the exhilaration and excitement as soon as you step inside this spectacular building.
The palace, a magnificent work of architecture, stands up over the sea and commands attention. You are brought to a level of majesty as you walk through its revered halls and are entirely engulfed in its glittering ambiance.
Entry Fees:
Al Montazah Water Park admission costs AED 120 for adults and AED 75 for kids under the height of 110 cm. Children under 110 cm are admitted free of charge, allowing them to experience Sharjah's spectacular attraction for nothing.
ideal Moment to Explore Al Montazah:
The best time to visit Al Montazah Water Park is from June to September. The weather throughout these months is ideal for maximizing your enjoyment of the park's varied activities during the sweltering summer months.
Planning and making travel arrangements well in advance is advised if you want to come during the ideal time of the year to avoid the extreme heat.
Conclusion:
When the weather is ideal for experiencing this thrilling Sharjah destination during the summer, the best months to visit Al Montazah Water Park are from June to September.
A water park is a great option to stay cool if you want to get away from the oppressive heat. It is essential to plan and reserve your trip well in advance to ensure that you arrive at the height of the year's most advantageous time.