Dubai Gold Souk - Explore the True Gems
Posted On 11-Sep-2023
Dubai's moniker, the Golden City, is well-deserved. It is the location of the Gold Souk, the only dedicated market in the world for these priceless goods. Since its founding, the city has placed a high importance on gold, especially given that its economy relies heavily on its extraordinary purity. From 24K to 18K, Dubai's gold is regarded as being the finest and most trustworthy.
Also Read: Dubai Marina Walk
Gold Souk Dubai - An Ultimate Guide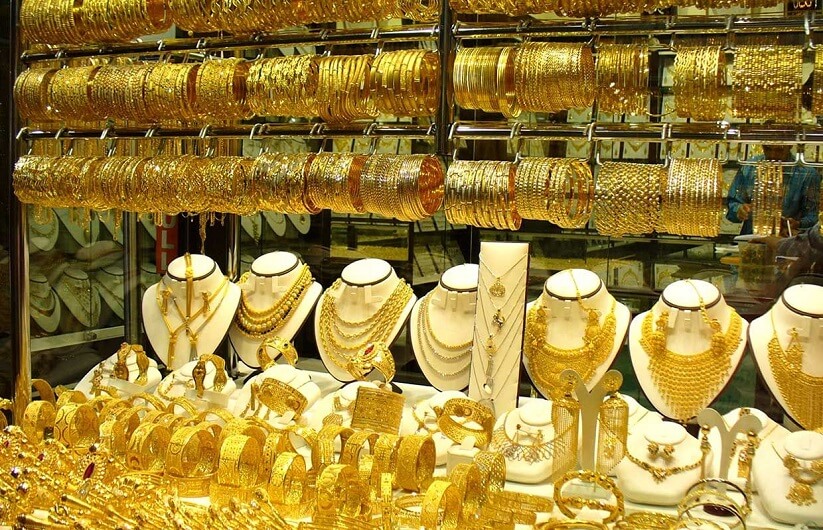 This very factor contributed to the growth of the Gold Souk's fame. The Dubai government makes sure that the purity of the precious metal exchanged is consistently verified. Additionally, businesses must maintain their measuring records so that authorities can examine them.
Location:
The Gold Souk is one of Dubai's main tourist destinations, and it is situated in the Al Dhagaya neighborhood of Deira Creek. This region was the hub of the old city when it was founded in the early 1960s, and it continues to be so now.
History:
With time, it rose to prominence, drew a huge number of traders, and eventually emerged as the largest gold trading hub in the Middle East and possibly the entire world.
The Dubai Gold and Jewellery Group collaborates closely with the Dubai Economic Development to keep its sway over the gold dealing and retail industries. Every Gold Souk store displays the published retail pricing, which is based on the London Metal Exchange. Retail prices for jewelry are guaranteed to be competitive and cheap thanks to consistent pricing and tax-free purchasing.
Number of Stores:
More than 900 gold shops can be found in the Dubai Gold Souk, each of which openly displays a variety of jewelry without imposing stringent security measures. Numerous tourists are drawn to this magnificent exhibition of ample gold and passionately purchase lovely jewelry.
They particularly appreciate that there is no need for severe security measures or onerous admission requirements that are frequently found in other establishments when this priceless content is sold.
Tips on Shopping from Gold Souq Dubai
It's important to take into account the enormous number of more than 400 businesses fighting for your business when purchasing from the Dubai Gold Souk. There's no rush to make hasty decisions because there are many different design options.
Additionally, ESMA (Emirates Authority for Standardisation and Metrology) strictly upholds the same purity requirements, ensuring confidence in the material's quality regardless of the vendor you select.
Follow these steps:
Choose what you wish to purchase
View the assortment of possible designs
Inquire about the cost, which often includes the retail price and any additional fees
Don't be afraid to haggle and go around other stores before choosing
Get a purchase receipt as soon as an agreement is reached
Find out if there are any giveaways, raffles, or special offers, and take advantage of them
Enjoy the fact that there are no taxes on the gold and diamonds you buy, so you may leave with a smile
Places to Explore near Dubai Gold Souk
The Dubai Gold Souk is well known for its gold, but it has also garnered praise for its exquisite selection of diamonds, priceless gemstones, and alluring jewelry. It is also well-known for its illustrious collection of high-end watches and for its expert restoration of antique timepieces. In addition to these services, the Gold Souk provides services for material purity verification for your convenience. As further evidence of its status as a one-stop shopping location, its facilities include a sizable emporium devoted to the opulent world of fur.
The Spice Souk, a mesmerizing marketplace known for procuring the best spices from various regions of the Middle East and Southeast Asia, existed before the Gold Souk was established. Your senses would be captivated by the huge variety of olfactory treasures shown here, which are offered in both smaller retail and bigger wholesale volumes.
The quantity of spices gives out a distinct and alluring perfume that permeates the entire area. Seize the opportunity to get the finest spices, which will undoubtedly enrich your culinary experiences and may even have some therapeutic benefits.
The Perfume Souk is a lovely stop for people looking for authentic scents. You'll find a variety of regional perfumes and oil-based Oudhs inside its magical setting, all tastefully packaged in vintage bottles.
The wood utilized to create these alluring aromas is also supplied by numerous expert perfumers. You may be sure that these perfumes have excellent lasting power and will leave a lovely aroma behind.
The tale of the Indian, Pakistani, and Iranian jewellers who immigrated and established their enterprises in this bustling market is told in the history of the Dubai Gold Souk. Their activities were inextricably linked to the regional pearl trade, which helped to forge friendships and respect among these many nations. Surprisingly, the strong friendship that was forged in those early years is still palpable now.
Activities to Unleash in Dubai Gold Souk:
The Gold Souk deserves more than just to be called a shopping district. There are plenty of additional things to do in this crowded market.
You can stroll beside the creek early in the day to take in the tranquility.
The lovely boardwalk is a perfect place to observe the raucous group of seagulls making noise.
Throughout the area, you may find quaint old cafes where you can eat breakfast or dinner.
These establishments are all over and offer a wonderful location for savosavorional specialties like the delectable "Shwarma" and the cooling Sulaimani Tea (a native tea without milk), which make a terrific pairing. Additionally, there are neighborhood fruit vendors and gift shops.
Many of the shops, which are primarily managed by Iranian vendors, will offer you a camel that says "I love Dubai" as a lovely keepsake. There are a tonne of options to consider.
Explore the old market's lovely lanes and its traditional wooden structures in the Creek area.
Surprisingly, some stores maintain a comfortable temperature even during the sweltering heat.
Take advantage of the opportunity to take in the colorful array of individuals passing by if your sweetheart is busy shopping.
Appreciate the many dialects and languages used by people from all nations, which makes it a truly intriguing experience.
Souk Timings
On Saturdays through Thursdays, the Gold Souk is open from 9:30 a.m. to 9:30 p.m.; however, on Fridays, it opens at 4 p.m.
How to discover the fascinating Gold Souk in Dubai?
Every visitor to Dubai must locate the Gold Souk, which is a top attraction on their "Things to Do" list.
There are various ways to get to this well-known market, but taking a water taxi from Dubai Museum is the most romantic option. This gives a pleasant 20-minute trip across the canal that is reminiscent of the period before to toil boom and is still practiced. On this picturesque ride from Bur Dubai to Deira, you'll encounter a wide variety of people, including office employees, shoppers, and tourists, all traveling on elegant wooden boats called as "abra."
The Dubai government launched the "Water Taxi" service, which offers cosycozyr-conditioned seating, to enhance transportation for tourists. In addition to this, there are numerous additional means to go to the well-known market, like bus services. One of the biggest bus stops in the region is the "Gold Souk Bus Stand," which is conveniently placed close by.
A frequent stop on city and cultural trips planned by various excursion providers is the Gold Souk. It's important to note that on any given day, more people come than live there, demonstrating how incredibly popular it is.