Dubai Marina Walk - Unleash Charms & Wonders
Posted On 04-Sep-2023
The Dubai Marina is a popular gathering spot for both locals and tourists. It stands out for its beauty, and everybody can benefit from it. It is situated in the city'scenter, surrounded by high buildings, and offers a nice promenade for strolls. This location is ideal for anyone seeking a calm escape. Are you curious to learn more intriguing information? We'll provide some great stuff, so pay attention.
Also Read: Deira City Centre
Dubai Marina Walk - An Ultimate Guide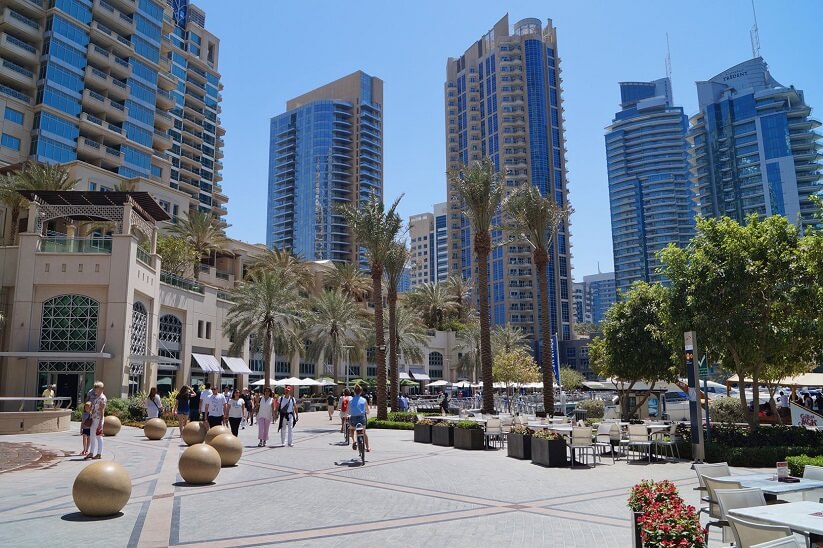 Take a look at this lovely path along the sea that is lined with elegant palm trees. This idyllic setting is great for private family get-togethers. It provides an absolutely beautiful vista. Therefore, you absolutely must visit this location if you're in Dubai.
If you want to travel to Dubai Marina Walk in the winter, you can go whenever you like because the weather is nice. But because of the high daytime temperatures in the summer, it is recommended to go after sunset.
Treat yourself to the musical fountain's synchronized movements and mesmerizing sights at night; it's a breathtaking sight to behold. Don't forget to pack a camera so you may take stunning pictures of the area's natural splendor.
How to Get A way Towards Dubai Marina?
If you'd rather take the bus, just get out at the Jumeirah Bus stop and walk the remaining five minutes to reach Dubai Marina Walk. As an alternative, you can drive, ride the tram, or utilize the metro to get here. It's simple to get around here, and if you ever get lost, the helpful locals can point you on the right path.
Explore the many thrilling things Dubai Marina and its environs have to offer. Explore this informative list.
1. Mosque Tour
Al Mulla Mosque is a stunning structure that may be explored when strolling around Dubai Marina Walk. After nightfall, this sanctuary is adorned with beautiful lights.
Take a complimentary guided tour of the mosque, where an informed tour guide will discuss numerous Islamic customs and the mosque's history. Prepare to learn more about the mosque's past and the intricate traditions of Islam.
2. Dhow And Yacht Cruises
Treat yourself to an opulent Dhow sail or a Yacht tour if you wish for a breathtaking view of Dubai Marina Walk. Prepare yourself for a lavish journey packed with unparalleled luxury and nonstop entertainment.
Sailing through the neighborhood while relishing a tranquil time beneath the starry sky, have a mesmerizing supper cruise. Along with mouthwatering dining choices, these cruises also provide a wide variety of onboard entertainment, such as captivating Tanoura and Belly dance performances.
3. Play Areas For Children
Why not give your kids a once-in-a-lifetime experience? There are many kid-friendly areas available at Dubai Marina Walk, including climbing walls, swings, and slides. Parents can unwind on benches and watch their children play while keeping a tight check on them.
These play spaces offer cushioned flooring for enhanced safety to lessen the possibility of injuries from falls. There are numerous serviced apartments in the region that you can choose from if you're interested in staying.
4. Spa Visits
Another great aspect of this place is the abundance of spas and beauty salons waiting for you to visit. If you're in the mood for a relaxing foot massage, head to the well-regarded Chi Foot Spa, known for its exceptional specialized foot treatments.
5. Cycling And Strolling
With designated trails made for strolls, this tranquil region is the ideal refuge for quiet treks. You'll have lots of opportunities to get lost for several hours while relaxing and recharging your batteries. You're in luck if your favorite sport is cycling because this location is perfect for it. Additionally, renting a bicycle here is simple, so you can indulge in your favorite pastime to the fullest.
6. Relish A Shopping Spree
If you're a serious shopper, this area is a veritable gold mine, full of dozens of busy shops selling a wide variety of goods. Prepare to discover a wide range of products from renowned luxury companies like Sephora, Ted Baker, Steve Madden, H&M, and ICONIC. In essence, there are a tonne of shopping options at this location, so even the most discriminating tastes will be catered to.
7. Dining
A veritable heaven for connoisseurs of international food, Dubai Marina Walk is home to a wide array of culinary pleasures. This area is crammed with gorgeously furnished cafes and eateries, each of which serves a wide variety of mouthwatering flavors.
A trip to Pier 7 is strongly advised if you're looking for a fine dining experience. You can enjoy delectable cuisine and breathtaking views of the Arabian Gulf here. An exceptional dining experience is guaranteed by the excellent accolades that each restaurant in the neighborhood has garnered from both discerning patrons and respected food critics.
Final Word
Unmatched in its magnificence, Dubai Marina Walk is a representation of beauty and grace. This neighborhood, which extends across an amazing seven km, features architectural marvels on par with fine art.
It is a favorite vacation spot for many travelers each year since it is the ideal location to take in both the splendor of nature and the comforts of life. It's a good idea to go during the week when it's generally quieter to avoid the crowds.
With a greater grasp of this magnificent location, you can now begin making travel plans and making priceless experiences in this enchanted land.