Elizabeth 2 Dubai - Explore the first Floating Hotel in the UAE
Posted On 03-Jul-2023
The Queen Elizabeth 2 Dubai (QE2) is a new dining and entertainment establishment in Dubai that is incredibly bizarre. Despite not having been recently constructed, it has an unmistakably regal legacy. This ocean liner has a distinguished background and has now found a permanent home in Dubai. Doesn't the idea have an alluring sound to it?
We now have a special article about this recently renovated transatlantic ship for this week. It includes its amazing history, notable voyage, fascinating anecdotes, and current status as a prestigious floating hotel in Dubai.
Also Read: The Rotunda Show Dubai
Queen Elizabeth 2 Historical Know-How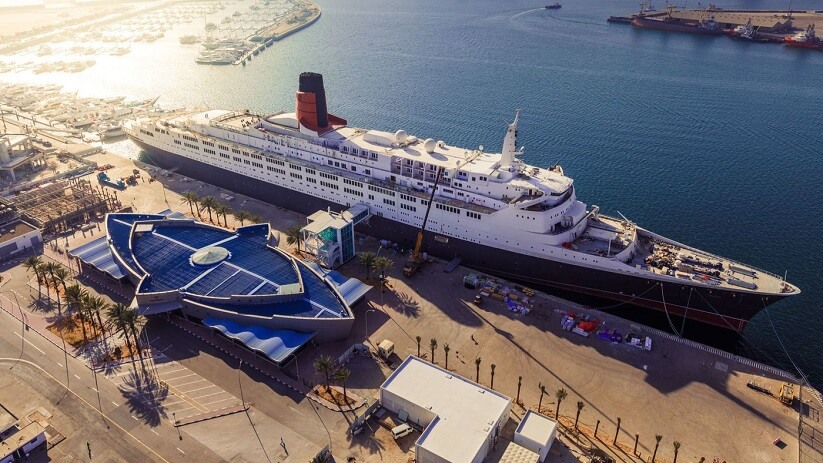 Elizabeth II revels in a glorious past spanning more than fifty years. It was initially created for the renowned British-American cruise line, the Cunard Line, which is operated by Carnival UK. It was intended to be the third Cunard Queen, following the Queen Mary (1934) and Queen Elizabeth (1938) boats. On September 20, 1967, Queen Elizabeth II presided over its formal debut, which was graced by Prince Philip and another illustrious British royal. The queen gave the ship her nickname.
Amazingly, Queen Elizabeth 2 sailed at a period when aviation travel was starting to supplant the maritime sector. Compared to its predecessors, it had a sleeker, more streamlined design, making it a superb option for travelers seeking luxury travel. It became the Cunard flagship ship and a groundbreaking marvel when it set out on its first voyage in 1969, revolutionizing refinement and cruising opulence while presenting a shiny hull that was influenced by distinctly British aesthetics. It became synonymous with a bygone era as a transatlantic liner that traversed the waters between Southampton (UK) and New York over about four decades.
Following its final expedition in 2008, Queen Elizabeth 2 found Mina Rashid Port in Dubai to be its eternal haven. If one has enjoyed the splendors of a Dubai dhow cruise, this meeting is certain to arouse a similar passion. The ship was purchased for $100 million by an investment company owned by Dubai World. Ten years later, PCFC Hotels, a division of Dubai Ports, Customs, and Free Zones Corporation, completed a thorough renovation to transform it into a lavish floating hotel.
Facts:
Nine diesel-electric engines were installed aboard Queen Elizabeth 2, giving it unmatched speed and unmatched power for the time.
The sleek design of Queen Elizabeth 2 demonstrated itgrgreatereuverability as it made a smooth trip through Panama and SCanalsanal.
The average speed of the QE2's sea voyages was close to an astonishing 29 knots.
Trips across the Atlantic on the QE2 were brief, never lasting longer than five days.
With the triumph, Queen Elizabeth 2 completed 812 Atlantic Ocean voyages.
The QE2 proudly completed 1400 maritime voyathroughouthout its existence as a seafaring marvel, covering an astounding distance of around six million nautical miles.
A staggering 2.5 million people boarded the QE2 over its 25 worldwide odysseys, and it was responsible for assuring their enjoyment.
The QE2 bravely served as a major troopship during the Falkland War in 1982, playing a significant role in the historic fight.
Legendary individuals with international notoriety including David Bowie, Elizabeth Taylor, and Nelson Mandela were among the distinguished sponsors of the QE2.
It took an astounding 2.7 million man-hours to transform the illustrious Majesty of Queen Elizabeth Dubai and bring it to its present spectacular condition.
The Middle East's first floating hotel, this exceptional 13-deck facility provides an impressive assortment of amenities, including 1300 well-appointed rooms, 13 outstanding dining options, and an enthralling museum that captures the ship's rich history.
All Important Details about Queen Elizabeth 2
Location:
At the Port Rashid Marina, which is tucked next to Al Khaleej Road, the ship is safely parked. About 12 km are required to go between it and Dubai International Airport.
How to Reach?
The most practical means of transportation to get to this location are a car or the subway. The green line makes it simple to go to Al Ghubaiba, the nearest metro stop. To go to the exact site from the station, it is advised to take a cab.
Queen Elizabeth 2 Heritage Tour:
One of the most amazing ways to see the majestic magnificence of this storied cruise ship if you do not plan to stay at the hotel is to go on a guided tour. This interactive experience reveals the magnificent lodgings and gastronomic pleasures it has to offer in addition to providing significant insights into the varied narratives and eras of its storied past. The stunning settings, such as the Queen's Room, the Bridge, and the Cabin, deserve special mention. Make your way to Queen Elizabeth 2 Heritage Exhibition section in Dubai City to start your exploration. The entry cost is AED 170 and comes with a coupon for AED 100 that may be used at any of the prestigious eating options at the hotel.
Grand Stay:
There are numerous lodging options available to those thinking about taking a trip on the stately Elizabeth of Dubai, ranging from exquisite guestrooms to sumptuous suites. Standard, Superior, Deluxe, and Captain's Club Rooms are just a few of the different types of guest accommodations available, some of which may have balconies. Each of these accommodations offers breathtaking views in addition to several conveniences like free Wi-Fi, coffee/tea makers, refrigerators, and king/twin/single mattresses.
Additionally, the apartments include porthole windows that frame mesmerizing sea views, enveloping visitors in a wonderful atmosphere. The suites, on the other hand, are painstakingly created with unmatched grandeur, appealing to individuals who enjoy luxury and opulent design.
Luxury Dining:
The Elizabeth Dubai cruise proudly presents a stunning selection of 13 unique culinary experiences, including a lovely choice of eateries, coffee shops, and bars. Each dining business emits a unique atmosphere and offers a tantalizing array of delicious treats, such as:
The Pavilion:
This charming outdoor dining spot is known for its expertise in Aegean cuisine and offers a wide variety of libations, including a vast selection of cocktails and mocktails. It is tucked away on the lower deck of the Queen Elizabeth 2 ship.
It is open diligently from midday to 11 p.m. and is prepared to offer a memorable gastronomic experience in a beautiful atmosphere.
The Golden Lion:
This traditional pub with a British flair, which is regarded as the oldest establishment of its kind in Dubai, is a great place to watch live sports, play darts, and enjoy a wide variety of draught drinks.
Starting at noon and ending at midnight, these are the operating hours.
Also Read: Lotus Mega Yacht Dubai
Q Café:
This laid-back setting, which is conveniently located next to the hotel lobby, is perfect for a quick snack or a get-together with friends. Leafy greens, delicious sandwiches, artisanal confections, flaky baked products, savory pies, fragrant infusions, and energizing coffee are among its culinary specialties.
Operating hours: starts from 07:00 AM until 11:00 PM
Lido:
This restaurant serves a variety of international cuisines for its spectacular breakfast, lunchtime feast, and evening meal. It is located on top of the ship's Quarter. Additionally, it has developed a reputation for its opulent mid-morning meal, particularly the coveted Friday Brunch that is only available to guests of Queen Elizabeth 2.
Breakfast: starts from 6:30 am till 10:30 am
Lunch: starts from 12:30 pm till 3:00 pm
Dinner: starts from 7:00 pm till 11:00 pm
Friday Brunch: starts from 1:00 pm till 4:00 pm
The Chart Room:
This restaurant offers a superb location in which to indulge in fine vintages and craft brews as well as traditional delicacies like fish and chips, leafy greens, and gourmet burgers. Customers clamor for its popular Afternoon Tea service, which is only offered on Thursdays and Fridays from 3:00 pm to 5:00 pm. The following are the operating hours:
3:00 pm to 12:00 am, Sunday through Thursday
Fridays and Saturdays: 12:00 p.m. to 12:00 a.m. (please note that precise times for visits should be observed).
Yacht Club:
This location has an air of authenticity because it is encased in the ship's original Yacht Club, which has been lovingly restored to its spotless condition and includes a fully stocked bar. Its balcony is a standout feature, providing breathtaking views of the urban landscape. The following are the operating hours:
Sunday through Wednesday: 4:00 p.m. to 1:00 a.m.
Thursdays: 4:00 p.m. to 3:30 a.m.
Fridays and Saturdays: 12 p.m. to 3 a.m. (the next day)
The Grand Lounge:
The magnificent Grand Lounge is located in the center of the ship's upper deck. This remarkable location offers a one-of-a-kind culinary experience that is enhanced by its lavish cabaret-inspired atmosphere, which features a beautiful stage and a roomy dance floor.
Leisure Attractions:
The amazing qualities of this dynamic lodge go beyond only lavish lodging and dining opportunities. Visitors can take full advantage of the variety of amenities and services this facility provides, which include:
Theatre by QE2:
Dubai's unique licensed playhouse offers an extraordinary setting where you may enjoy a beverage while immersing yourself in a cinematic masterpiece within its opulently furnished limits, along with an attached lounge (Crystal Bar). This theatre is ideally suited for organizing intimate events because it has a maximum seating capacity of 515 people.
Duty-Free Shopping Arcade in Dubai:
This location, which includes the ship's designated commercial area on the deck, offers a seductive chance to purchase a wide range of goods, ranging from exclusive Queen Elizabeth 2-themed souvenirs to cutting-edge electronics, exquisite jewelry, seductive cosmetics, delectable confections, and a variety of other treasures.
QE2 Aquatic Center & Fitness Studio:
This location emanates excellence as it unveils a cutting-edge sporting complex complete with cutting-edge TechnoGym® equipment. The ship's painstakingly restored internal pool is another of its unique features and a stunning reminder of its former splendor.
Queen Elizabeth 2 Wellness Center:
Indulging in lavish spa services or revitalizing face therapies at this wellness retreat is superior to other forms of self-pampering.
Compass Rose:
This elegant Italian shop, which is part of Queen Elizabeth 2's main terminal building, is a showcase for sophisticated taste. It truly epitomizes the pinnacle of fashion with its wide range of sartorial delights, which includes clothing for men and women as well as an amazing selection of shoes, purses, and enticing accessories.
Directions Before You Visit:
Certainly! The key points are as follows:
Through Queen Elizabeth 2's official website, load, ging, and events may be booked.
The cost of lodging varies depending on the suite or room package that is selected.
The "Offers" area of the website should always be checked for the finest discounts and offers.
On various occasions, Queen Elizabeth II hosts a wide range of specialized cuisine events.
The QE2 Halloween Brunch and the Winter Wonderland Weekend are upcoming events.
Conclusion:
Queen Elizabeth 2 is certain to surpass your expectations, whether you crave a break from the traditional Dubai attractions or seek an amazing refuge during your visit to Dubai. It offers a remarkable blend of unrivaled lodging, incomparable settings, exclusive eating options, and great recreational opportunities, providing a genuinely unique vacation.