The Rotunda Show Dubai - A Must-Watch Show
Posted On 26-Jun-2023
During a visit to Rotunda Dubai, one may engage in extraordinary exchanges. As a result, the focus of this article is on the unique qualities and main draws.
The most cutting-edge marine hub in Dubai, Bluewaters Island, is a technological marvel. It offers a wide range of exhilarating events to ensure a memorable adventure in the city. These include the unrivaled Ain Dubai Ferris Wheel, the pier, and Madame Tussauds in the city of luxury. In addition, Bluewaters Island is home to Caesar's Palace, which is the only location of its kind outside of Las Vegas.
The Rotunda Dubai at Caesars Palace Bluewaters Dubai serves as a prominent hub of entertainment nearby, raising the bar for extravagance and elegance among the several hotels available in Dubai. This amazing building, with its recognizable dome-shaped structure, debuted a little less than a year ago. Since then, it has already hosted several prestigious events, such as the well-known WOW spectacle.
Rotunda Dubai - what to Explore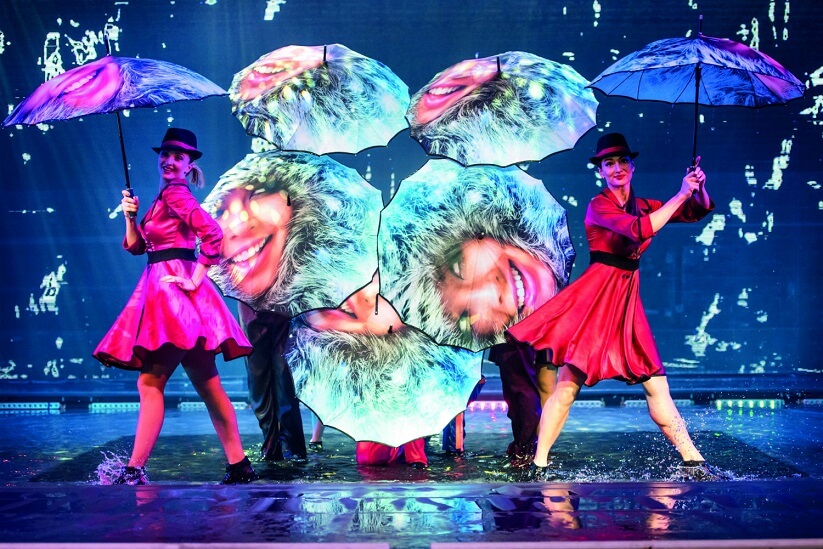 Timing:
Depending on the schedule of the exhibition, access to The Rotunda in Dubai City opens 30 minutes before the start of the spectacular. Nevertheless, the two-hour operation of the ticket counter begins. The performance begins approximately 30 minutes after the official program starts time and ends after that.
Duration:
Your experience at the Rotunda Dubai event may last a shorter or longer amount of time, depending on the exhibition on display. However, it is typical to set aside two to three hours to fully immerse oneself in the spectacle.
Location:
Caesars Palace Bluewaters Dubai, which is ensconced amid the picturesque surroundings of Bluewaters Island, is ideally located next to the spectacular Rotunda show. This attractive island is situated adjacent to JBR Beach (Jumeirah Beach Residence), resulting in a breathtaking picture that spans a vast stretch of 300 meters.
Also Read: Madame Tussauds Museum in Dubai Guide
The Rotunda Dubai Key Points
In the renowned "City of Gold," the United Arab Emirates, this recognized entertainment hotspot is a top draw
The Residences at Caesars Palace, Caesars Resort Bluewaters Dubai, and other opulent lodgings are displayed there
They also serve as the centerpiece of Caesars Palace Bluewaters Island adding to adding traction.
A great collection of almost 12 different restaurants.
Qua Spa is an upmarket wellness retreat.
It's unusual building, which has a remarkable dome-shaped structure, is a defining feature that adds to the appeal.
The word "Rotunda" describes a circular structure that is frequently seen in classical and neoclassical architectural designs and I modeled after the well-known Pantheon of ancient Rome.
It is the ideal location for large-scale events because it has space for up to 500 guests.
Every season, The Rotunda Show features a variety of breathtaking live acts and captivating gatherings.
Near the Orange Zone, there are plenty of free parking spaces that can be found.
Due to its elegant indoor and outdoor areas, great gastronomic treats, and opulent amenities, The Rotunda stands out as a special location for business meetings, spectacular celebrations, product launches, and theatrical plays.
Also Read: Fontana Water Circus
How to Reach?
A wide range of practical and well-connected transport options make it simple to get to Bluewaters Island. Regardless of whether you use private transportation or call a cab, the distance from the city center shouldn't take more than 20 minutes. For those taking the metro, DMCC is the closest station. Additionally, those who prefer buses can take advantage of RTA buses, such as lines 84 and F55A, which pass near the island.
Ticket Price:
For up-to-date information on upcoming performances and ticket information for this unique allure, it is advised to look through the tour page or go to Rotunda Dubai's official website. It's important to stay current with updates because rogrprogramsasionally change. Attendees will have a wide range of ticket options, including options for seating-only or seat-and-dining packages, regardless of the specific spectacular. Breathtaking Things at Rotunda Dubai H2 Every performance at The Rotunda is sure to be enthralling thanks to the astounding skills on display there. If you need more convincing, this section strives to give you more information outlining the components that make up its alluring allure.
Also Visit: Eye-catching evening desert safari
Premium Shows Venue:
The History of the Rotunda in Time The Tenors of Rock captivated the Dubai crowd in December 2018 with their thrilling performances. Soon after that, in March, the renowned singer-songwriter Tom Odell gave a spectacular performance that won worldwide praise. With its cutting-edge visuals, mind-blowing melodies, flawless choreography, and awe-inspiring acts performed by a troupe of over 30 exceptionally talented artists, the internationally acclaimed production WOW - Direct from Las Vegas made an unforgettable impression from February to May. It didn't take long for The WOW Show at Dubai's Rotunda to establish a reputation as an unmatched and spectacular event.
Rotunda Rumble:
The compelling live performances have captured the interest of ardent boxing fans and sports enthusiasts as well as the hearts of devoted admirers of breathtaking musical extravaganzas. The historic Rotunda Rumble was expertly planned by Middle East Professional Boxing in association with MTK Global and Round 10 Boxing Club. It featured an all-star cast of the world's best fighters, including both homegrown UAE talent and formidable competitors from all over the world.
Muhammad Waseem
Julio Cesar Martinez
Andrew Selby
The second Rotunda Rumble took place in November of that same year, just two months after the first one's great conquest in September.
360 View Show:
Formulate yourself for a remarkable visual encounter within Rotunda Dubai's extraordinary dome-shaped construction, which can adjust 500 people at once.
Nonetheless, the Rotunda Dubai spectacle is an unpaired appreciation of the available 360-degree vantage significance that this circular atmosphere affords.
The Upcoming Events:
According to information provided on Rotunda Dubai's official website, the illustrious location is scheduled to hold a riveting exhibition featuring the renowned maestro, Prateek Kuhad. If you're not familiar with his extraordinary talent,
Indian singer-songwriter Prateek, who is well-known worldwide, has performed on stages in a wide range of nations.
Canada
France
Germany
the Netherlands
the UK
the US
His first visit to the UAE will take place on the historic date of January 24, 2020, making it a landmark occasion and adding to the excitement of this magnificent event.
The Finish Line
Are you thinking of taking a trip to the alluring city of Dubai? Make sure that Rotunda Dubai and Caesars Palace Bluewaters are on your list of must-see locations because they provide all the necessary components for an unforgettable trip in this magnificent location.