Dubai Creek Tower - A Must- See Attraction for NewComers
Posted On 17-Jun-2023
The Dubai Creek Tower is a noteworthy building that stands out among others. It will climb to win the title of the world's tallest high-rise by surpassing the height of both Dubai's current tallest structures, including the Burj Khalifa. Upon completion, the tower's outstanding structural elegance and vision will undoubtedly revolutionize the cityscape.
This manual offers thorough explanations of the tower's construction, structural layout, location, timeline, and other important details. Find out what the future holds for this iconic masterpiece.
Also Read: Lost Chamber Aquarium
Dubai Creek Tower - A Detailed Overview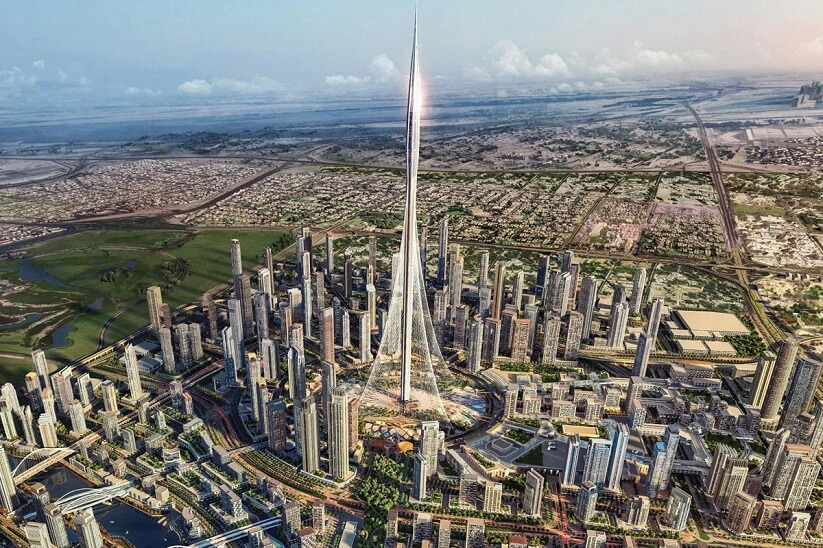 Eye-catching Architecture:
Dubai Creek Toweunrivaledaled architectural magnificence, which thrives in the middle of an urban metropolis, is its most alluring feature. It is distinguished by ground-breaking inventions and astounding engineering feats, which are typical. Additionally, it is delighted to hold a coveted location within Dubai Creek Harbour, a bustling and contemporary neighborhood.
This view position was carefully designed to blend in with the stunning natural surroundings. It is tucked away among the tranquil waters of Ras Al Khor Wildlife Park, a haven for more than 500 exceptional species of native plants and animals, with the mesmerizing pink flamingos as a standout attraction.
The Dubai Creek Harbour Tower was conceptualized by renowned Spanish architect Santiago Calatrava, who is well-known throughout the world for his groundbreaking architectural successes. The Margaret Hunt Hill Bridge in Dallas, Texas, the Milwaukee Art Museum, the Museum of Tomorrow in Rio de Janeiro, the Turning Torso building in Malmö, Sweden, and the City of Arts and Sciences in Valencia are just a few examples of his impressive projects.
Design:
By combining the traditional Islamic minarets and the desert lily flower, the Dubai Creek Tower exhibits a modern and sleek design that gives it a distinctive and affluent appearance.
While the tower's slender shaft reminds one of a budding flower, its delicate steel cables resemble the intricate veins of a lily leaf. These elements strengthen the structure's strength while also enhancing its aesthetic appeal. A bud-like part at the top of the tower reveals several levels and observation decks that are embellished with alluring lush havens.
This fascinating structure is being driven:
It was initially designed to improve Dubai Creek Tower's aesthetic appeal and prominence, but it has well surpassed those goals. Since it began in October 2016, the construction has advanced quickly towards its anticipated completion in the years 2020–21.
The Accompanying Culmination of Building Levels:
Dubai Creek Tower is practically transforming into the world's tallest plan. An extraordinary achievement even with a serious scene of forceful drives across the Bedouin Projection.
In this race, surprising applicants consolidate Saudi Arabia's Jeddah Zenith and Kuwait's Madinat Al-Hareer. Regardless, with the zenith's traditional opening, Dubai is set to stay aware of its elevated position. As the site of the world's tallest statement of human imagination.
The principal plan required the improvement of an observatory that would eclipse the Burj Khalifa. Moreover, it is standing an extra 100 meters taller at 828 meters. According to late reports, the Dubai Creek tower's size could perhaps outflank the astounding accomplishment of one kilometer. It is moving to a magnificent degree of 1300 meters. The dispute is irate, and our energy for the triumphant achievement has no restrictions!
Dubai Creek Tower achieved uncommon achievements all aloof its turn of events, most conspicuously with its foundation stack cap. It is a set of won wonderful accomplishments with a significance of more than 70 meters and a thickness of 20 meters. This astonishing top required an astounding 50,000 cubic meters of concrete, gauging around 120,000 tons. As well as an additional 16,000 heaps of steel support.
Additionally, it started off a novel, new thing by sending 145 barrette stores. It is unflinchingly maintained by a huge store more than of 36,000 tons — a remarkable achievement in the circle of fundamental turns of events.
Become acquainted with Dubai Creek Tower
Timings:
This segment will be redone once the apex is opened.
Region:
The Dubai Creek Tower is a piece of the meandering aimlessly Dubai Stream Harbor, a stunning waterfront improvement crossing an essential 679 million square meters. Inside this splendid space, you will find several confidential designs. It looks like highighrise and happily claims to be the tallest of its sort.
Also, the business locale's far and wide navigates more than 850,000 square meters. It is conveying a rich focus on business development. Moreover, the improvement plans require the advancement of around 20 hotels, each with something like 4,000 rooms. The shopping section should include an area more than of 11 million square meters, giving an unrivaled retail understanding.
What to Explore at Dubai Creek Tower:
While passes to the Burj Khalifa outfit travelers with a sweeping point of view on the Dubai city from its insight decks. It is laid out to break guidelines with its flood of enchanting activities and novel interchanges.
Set out on an encounter to see the stunning skyline vistas from the most critical point in the city:
An unrivaled vantage point expects, to convey remarkable scenes of Dubai. From an astounding level, with a shocking outright of 10 insight decks.
Experience widely inclusive viewpoints from the Turning Stages:
Wisdom itself changes in this particular circumstance. This open-air field. It is contained pivoting glass closed in regions, giving an unhindered. Other than the broad viewpoint of the entire city as it easily turns.
Guide of Lights:
The observatory's raised space will communicate as a breathtaking helper as the sun sets underneath the horizon. Easily edifying the central arrangement incorporates that depict its fundamental encapsulation, prominently diseases association of steel wires. The exchange of clear lighting redesigns the zenith's stunning brilliancarrangedng with its innovative awesomeness.
End:
The Dubai Creek tower drenched in a lot of drawings of prime supporters and energizing encounters invites you to notice its sluggish affirmation. A visit to this surprising zenith-commitments to make a persisting through etching on your Bedouin stay. It is settled immaculately to offer a generally comprehensive vision of the city's eminent skyline. In any case, don't stand around lazily; painstakingly set up each piece of your splendid city experience in the UAE. Counting game plans for the fundamental Visit Visa shows.