Jumeirah Mosque Dubai – Explore Islamic Culture & Architecture
Posted On 24-Apr-2023
Visit Jumeirah Mosque, a remarkable and breathtaking landmark with exceptional structural design. However, it is considered one of the most commonly practiced activities for visitors in Dubai.
It is equally favorable for individuals who do not practice Islam to look up to the holy place's magnificence from the externals or participate in a guided visit. Therefore, this destination is not solely reserved for followers of the Muslim faith.
If you intend to include the mosque in your travel itinerary for Dubai. This guide will provide you with all the necessary details that you require.
Jumeirah Mosque Dubai - Some Amazing Facts for Tourists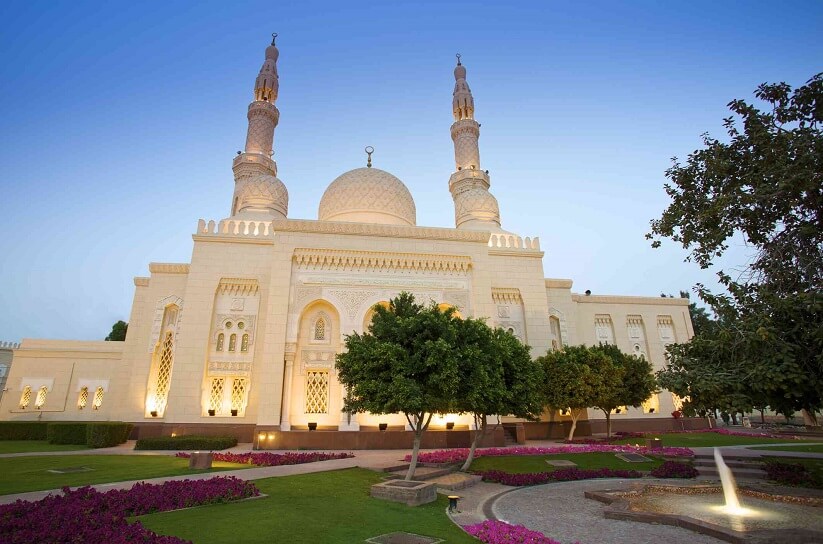 The Jumeirah Mosque in Dubai is a landmark that represents the city's identity. It is constructed in the late 1970s by a former Prime Minister of the United Arab Emirates. It serves as a splendid demonstration of traditional Islamic architectural style. However, they are accommodating up to 1,200 individuals for worship.
Constructed in the traditional Moorish style, this mesmerizing holy place is entirely made of white marble. As well as features six minarets and two domes. The interior is adorned with intricate Islamic calligraphy and customs.
Appearance:
Tourists who visit the Jumeirah Mosque will discover a spacious interior with a sophisticated prayer section. The central hall is accompanied by two smaller halls utilized for ablution before prayers. The walls and ceilings are embellished with stunning Islamic artwork. Besides, the natural light permeates through the sizable windows.
Also Read: Khorfakkan Dubai
Non-Muslims also have the opportunity to participate in guided tours of the holy place. They are granting them a chance to gain knowledge about Islamic beliefs and appreciate the temple's extraordinary interior. The Jumeirah Mosque is a valued component of Dubai's cultural legacy. As well as, a compulsory visit for anyone exploring the city of wealth.
Location:
Situated on Jumeirah Beach Road in the center of Dubai's bustling commercial and entertainment hub. This site is recognized as one of the most frequently visited tourist attractions in the glittering city of the United Arab Emirates. Moreover, its detailed architectural design and picturesque location. That makes it an essential stop for any voyager exploring this metropolis.
Entry Tickets:
The fee for a guided tour of the Jumeirah Mosque is roughly 25 Dirhams per individual (price subject to alteration). Tours are offered every day and usually last between 30 to 45 minutes.
Opening Hours:
The holy place will soon be accessible to the public for tours from 8:00 AM to 4:00 PM. Along with guided visits offered every half an hour, the visitors will get to explore more glamour than they will think before the visit. These guided tours offer a convenient opportunity for non-Muslims to appreciate the attraction's charm. Thus, it is recommended to plan your visit accordingly.
What To Wear?
Visitors are instructed to dress modestly and abide by the dress code regulations. However, it is stipulated that they cover their shoulders and knees. Women are also obliged to wear a headscarf and a loose-fitting Burqa or gown.
Men's dress code is adaptable, but it is preferable to dress in long pants and a long-sleeved shirt. Wearing shorts inside the premises is prohibited. If you are unsure about what attire to wear, you can always request recommendations from the holy place's staff. Conforming to the dress code will generate a positive and courteous ambiance at the Jumeirah Mosque.
What amazing thing happens in Jumeirah Mosque During Ramadan?
The site is open to tourists throughout the year, except during Ramadan when it is solely accessible for designated tours. Ramadan is a period of religious introspection and abstinence. Besides, numerous Muslims devote additional time to the venue during this sacred month.
Suppose you are visiting Dubai throughout Ramadan, you can always book a tour of the Jumeirah Mosque. Experienced guides conduct the tours and can address any queries you may have regarding the attraction or Islam.
The structure is an impressive showcase of Islamic architecture, and its vast size and magnificence are bound to awe tourists. Nevertheless, the venue is not merely a tourist spot; it is also an active place of worship. Additionally, visitors are required to display reverence towards this facet of the site.
Orientations for Jumeirah Mosque Before the Visit
Here are a few pieces of advice to finance you to enable the top of your excursion.
Modest Clothing
As stated previously, it is essential to dress fittingly when exploring the Masjid. Dressing in modest clothing entails covering one's shoulders and knees. if one is a woman, wearing a headscarf is required.
Remove the Footwear
Before entering the holy place, it is vital to take off your shoes. You can either remove them at the entrance or hold them while inside. Specific locations are available where you can place your shoes once you enter the structure.
Obedient Behaviour
The Jumeirah Mosque is not only a tourist attraction but also a place of worship. Visitors must behave respectfully and maintain a quiet demeanor. During prayer times, visitors are required to refrain from taking photographs.
Plan Your Outing from Start to End
To ensure an exceptional experience, it is crucial to plan your visit ahead of time.
For the best experience, it is recommended to plan and schedule a guided tour during the day. Alternatively, visiting the site at night can provide a breathtaking view of the illuminated structure.
Also Read: Fish Market Dubai
Keep in mind the following suggestions to ensure a positive and exceptional experience.
Can we acquire a Jumeirah Mosque to take on without a tour?
Islamic architecture and buildings can offer valuable insights into Islamic culture and practices. While guided tours of Jumeirah Mosque in Dubai are recommended, visitors are welcome to explore the mosque on their own. The premises are well-marked with informative signage, allowing for a self-guided tour at your own pace.
You are encouraged to take photographs inside the mosque using your smartphone camera. But don't forget to take off your shoes before entering.
Final Words:
Undoubtedly, the Jumeirah Mosque is an extraordinary marvel that appeals to both Muslims and non-Muslims alike. It is an essential destination to explore when looking to discover the authentic treasures of Dubai.
The mosque is conveniently located and captivating, rendering it an unmissable destination. Therefore, make sure to add the Jumeirah Mosque to your itinerary for your upcoming trip and witness the wonders that await.