Hub Zero Dubai - Unleashing your Inner Gamer
Posted On 29-May-2023
Are you looking for a lively environment? Instead of looking for one, why not broaden your horizons by visiting Hub Zero in Dubai? This thrilling location welcomes ardent gamers, VR enthusiasts, and those looking for entertainment!
Set out on a journey to Hub Zero and take part in a fascinating gaming adventure set in a vivid environment. This establishment takes video gaming to new heights, exceeding traditional computer or mobile device gameplay. Prepare for an unforgettable gaming experience at Hub Zero Dubai. In this essay, we will discuss the attractions, operation hours, booking information, restrictions, and decorum of Hub Zero Dubai.
Also Read: Play DXB Dubai
What's unique about Hub Zero Dubai?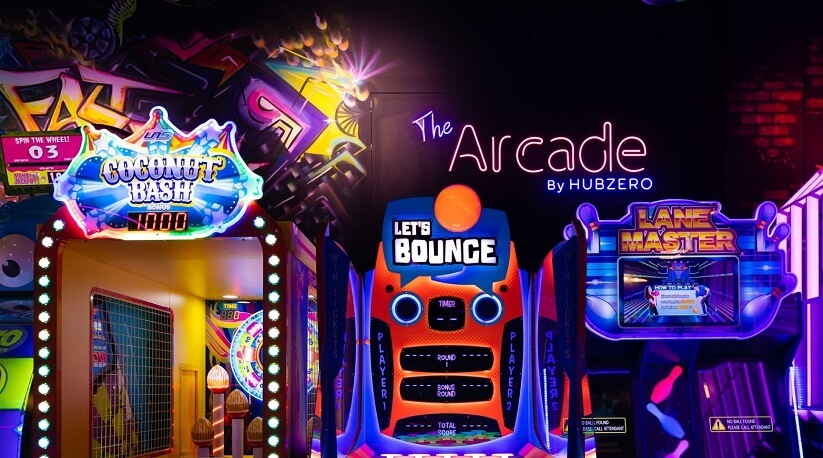 The venue is packed with racing simulations, old arcades, and exclusive sing-along rooms. It also has an interactive climbing wall, making it an ideal venue for your children and the adventurous side of you to enjoy spectacular indoor entertainment.
Hub Zero Dubai is an unrivaled establishment located in the bustling City Walk Dubai of the Jumeirah shopping and entertainment zone. It offers an enthralling view into another world by ingeniously utilizing cutting-edge technology. Prepare for an extraordinary combination of reality and the virtual world, resulting in a completely new cosmos. In summary, Hub Zero Dubai emerges as a gaming haven while also holding a respectable position among Dubai's premier tourist spots.
Opening Hours
You can visit Hub Zero between the hours of 2:00 PM and 10:00 PM on weekdays, namely Saturday through Wednesday.
However, on Thursdays and Fridays, the operation hours are extended until midnight, allowing you to enjoy the attractions until the clock strikes midnight
Address:
Hub Zero is located in the vibrant City Walk Dubai, and it extends a warm welcome to all, asking them to savor. Also, it enjoys the one-of-a-kind experience it provides.
Hub Zero Activities to Explore
Dive deep into a realm of limitless imagination and revel in your favorite game at the immaculately equipped gaming heaven, Hub Zero in Dubai city. This business features a large assortment of games spread across two levels. They are demonstrating their commitment to providing an unrivaled gaming experience. Choose from one of the five main genres, each of which offers a diverse range of options, including:
Shooter
Thriller
Hyper
Gaming
Group fun
Please be conscious that a period of these games necessitates a least height of about 120cm.
1. Shooter: call for Cowboys
Hack Attack:
Take on the character of a skilled marksman and fire a never-ending stream of projectiles with unrivaled power. This quick yet exhilarating adventure provides a breathtaking 3D experience set in the lively city of Dubai. It is an excellent venue for displaying your remarkable marksmanship abilities. You can precisely target and engage your intended targets by using specialized weaponry-mounted devices on simulators. Immerse yourself in their enthralling environment, which will take you on a heart-pounding 360-degree adventure.
strobe effects
fire effects
sound effects
simulated gunfire
Resident Evil: Bio-Terror:
In their nighttime visions, a large number of people have experienced terrifying undead monsters. Prepare to face these fearsome zombies head-on as you prepare to eradicate their presence. Step into the cutting-edge Umbrella Corp facility and embark on a mission to annihilate these reanimated entities with advanced laser armaments. All within the enthralling constraints of a three-dimensional experience. The more zombies you defeat, the higher your score will rise, demonstrating your prowess in this exhilarating endeavor
Virtual Arena:
Set off on a journey to Dubai's unrivaled wireless virtual reality adventure. It will provide you with an astonishing experience pushed by cutting-edge head-mounted displays. Furthermore, the seamless integration of motion capture technologies. Besides the real-time 3D engines take the thrill to new heights. Your goal in the first stage is to eliminate 61 zombies, which will open the door to the next levels. With its amazing 3D motion and breathtaking images, this game establishes itself as one of the most important attractions at Hub Zero Dubai, setting it apart from the competition.
Also Read: Top Golf Dubai
2. Thriller:
Asura's Wrath:
You may have previously played the enthralling Asura's Wrath video game on your PC or handheld device. However, you can now immerse yourself in an incredible environment where this game unfolds uniquely. Immerse yourself in a 4D cinematic voyage filled with breathtaking visual effects.
Prepare for a sensory overload, including leg ticklers, seat vibrations, water spritzers, air gusts, and thunderous bass reverberations within the theatre. If you're new to the game, don't worry; there's a pre-movie option accessible. It provides quick access and a thorough comprehension of the plot, elevating your already remarkable experience to new heights.
However, there are other attractions, such as
3. Hyper – Need for speed
HyperDrive:
Set out on a thrilling adventure where velocity rules supreme. In this exhilarating racing game, rekindle the spark of your inner racing expertise and conquer the greatest virtual racecourse. Immerse yourself in a mesmerizing visual spectacle made possible by the engaging 42-inch panoramic display.
This game introduces six new aspects of motion, assuring a dynamic and unpredictable race with each attempt. Your speed will be critical in gaining success. So, step on the gas and sprint to victory. Furthermore, we have gathered all of the necessary elements to make this attraction easily available for your enjoyment.
Double Agent
Plants vs. Zombies
Upright Adventure Hero Zone & Sports Academy
Tiny Track Racers
4. Gaming: A Bigger Arena for mobile-based gamers
Network Arena:
Looking for a bigger stage to show off your gaming prowess? Look no further, for Hub Zero cordially invites all gamers to participate in an amazing gaming marathon across its forty stations.
You may fully immerse yourself in an enormous range of cutting-edge PC games accessible at this amazing location. All thanks to its offer of high-speed internet connectivity and zero latency.
Time Warp Arcade:
Greetings to all who witnessed the great 1990s era firsthand! Let us start on a nostalgic journey, immersing ourselves in the treasured games of yesteryear. Celebrate the timeless masterpieces that defined an era and embark on an incredible journey through the lanes of beloved recollections.
Pac-Man
Space Invaders
Galaga
Asteroids
Dive into a beautiful array of vintage treasures to create timeless memories that will stand the test of time.
5. Group Fun: An UnConditional Laughter
Three distinct events await in the domain of collective leisurely pursuits: Lucky Break, Karaoke, and Pixel.
Take advantage of the golden opportunity to rent 10 tournament-grade tables at Lucky Break. It will provide you with an unparalleled billiards experience. Following that, the Karaoke event allows you to showcase your vocal prowess. Choose from a large selection of international hits and serenade to your heart's content. While enjoying wonderful snacks and the company of your buddies.
Finally, at Pixel, celebrate your birthday with up to sixty friends, all while indulging in an incredible spread of diverse gourmet delights.
One of the most notable aspects of Hub Zero Dubai is its holistic approach. You can enjoy entertainment, enjoyment, and satisfy your culinary demands all in one place.
Don't miss out on the delectable choices at Cache Point, Hub Cafe, Nitro Ice Bytes, and The Server. Hub Zero Dubai works tirelessly to provide unparalleled joy and euphoria to people of all ages.