Dubai Meena Bazaar - A Paradise for Shopaholics
Posted On 21-Aug-2023
Who doesn't like to indulge in some retail therapy in Dubai's Meena Bazaar, a bustling area known as "Little India"? It's a great spot to pick up mementos while you're in the UAE shopping capital.
A variety of fashionable international goods are available here, including stunning costume jewelry that is sure to capture your eye. The hardest part is picking, though, because there are so many excellent things in one spot. The best thing, though? Everything is reasonably priced! Don't worry; we have highlighted the important details for you.
Additionally, this buying guide was produced by the professionals at Meena Bazaar for your convenience. Continue reading to learn about the best things to buy and things to do in "Little India" to unwind.
Also Read: Movies Shot in Dubai
Meena Bazaar in Dubai: A Look at Indian Shops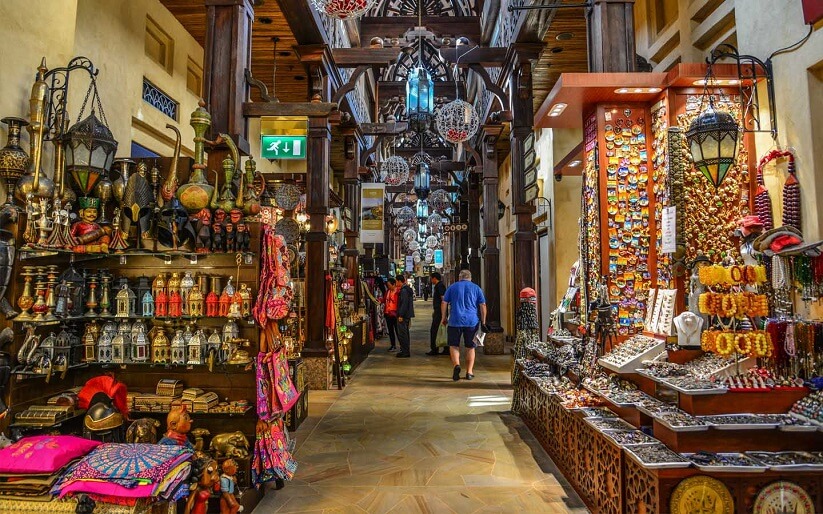 In Bur Dubai, this shopping district is next to Khalid Bin Waleed Street and is easily reachable by public transportation. If you decide to drive, parking can be expensive and difficult to obtain.
The easiest way to get to Meena Bazaar without fuss is to take public transport. At the Faheidi Roundabout, you can board a public bus or take the metro to Al Fahidi Metro Station 2.
Facts about Meena Bazaar in Dubai are revealed
Meena Bazaar's real name is Cosmos Lane, but due to its resemblance to Delhi's Meena Bazaar, particularly the fabric shops on Al Fahidi Street, Dubai city's cab drivers frequently refer to it as Meena Bazaar as a popular shopping destination.
When a store in Bur Dubai changed its name from Shardha Trading to Meena Bazaar, the name became well-known. The most ideal place to go if you're looking for traditional and ethnic apparel is this appealing location.
Visit between 08:00 GST and 23:59 GST on Saturday through Thursday for the best shopping. Be aware that it opens at 14:00 Gulf Standard Time and closes at 01:00 on Fridays. Additionally, stores close for a quick lunch break that often lasts 30 minutes. To comply with UAE rules, business hours are lowered by two hours each day during Ramadan.
Jewellery & Diamond Shops:
The first jewelry shop opened up here in 1982, at the same time that several gold merchants from the Deira Gold Souk relocated to the Meena Bazaar to sell jewelry at lower costs. This pattern has continued, and today you can find a lot of diamond and gold shops here offering jewelry for almost half the cost.
Dine & Wine:
Who wouldn't want to indulge in some delectable foods and beverages while they shop? Visit one of the numerous surrounding restaurants for coffee or a delectable Dubai meal if you're in the mood for some Arabian food. There are many bars and eateries around where you may enjoy oriental cuisine and a steaming cup of coffeesocializingalising with your shopping partner.
Furthermore, it goes beyond spicy non-vegetarian food. The renowned Rangoli vegetarian restaurant sits at the center of Meena Bazaar, which is ideal if you are vegan or enjoy Indian food. This restaurant is the ideal spot for vegans to satiate their appetites for delicious Gujarati and South Indian delicacies as well as freshly squeezed juices.
Shopping Galore:
Meena Bazaar transforms into a center of celebration during holidays like Eid Al Fitr, Diwali, or Eid Al Adha. Like fireflies lured to a bright light, there are throngs of people moving through the streets. Shops in general experience an increase in customers from all over the world.
Also Read: Sunbathing in UAE
The bulk of festival attendees, in the opinion of Jay Mohan, a well-known Meena Bazaar textile business owner, come to purchase ethnic apparel. He said, "You may find a wide variety of traditional clothing at Meena Bazaar. They are made from breathable fabrics and are available in a variety of hues, designs, and sizes.
During the holiday season, you can find tailor shops wandering the streets that specialize in making clothing to your precise measurements. This finding is a welcome surprise for anyone looking for traditional Indian clothing in Dubai.
Satisfy in the vibrant street food setting of Dubai
Visit Meena Bazaar to see Dubai's vibrant street food culture and enjoy a distinctive South Asian culinary experience at one of the area's quaint wayside restaurants. Be sure to sample the hot vada-pav, golgappas, jalebis, and samosas while exploring Meena Bazaar's busy streets.
In Dubai, Meena Bazaar provides a vivacious sense of Little India. The streets are bustling with shoppers looking for ethnic apparel and jewelry is permeated with the alluring aroma of Indian spices. The restaurants and shops in this region still exude a certain desi charm, giving the streets a distinctly Indian flavor. It is well known for having top-notch restaurants and food destinations like Mumtaz Mahal Indian Speciality, Mumbai Masti, and Puranmal Vegetarian.
Wrap up:
These places provide visitors with a true experience of India by serving some of the most delicious Indian meals. The wide variety of flavors and spices present here highlights the depth and variety of Indian cuisine. Anyone who enjoys Indian food and culture must visit this location because it offers a unique and pleasurable experience that combines dining and shopping.
Exploring Meena Bazaar should be a snap with all of these tips in mind, wouldn't you agree?