Dubai Kartdrome - Enhance your Racing Mastery
Posted On 13-Mar-2023
One of the most popular activities in Dubai is kart racing at the Dubai Kartdrome. It is a world-class kart racing facility that has been providing entertainment to people of all ages since 2004.
The attraction found in the heart of Dubai, the Dubai Kartdrome is a purpose-built facility designed to offer a safe and exciting kart racing experience to all. The circuit is part of the Dubai Autodrome complex, which also includes a
Grand Prix circuit.
a racing school.
a racing academy.
The attraction is an internationally realized circuit that has hosted several international events over the years.
Also Read: Balloon Flights
Dubai Kartdrome Guide for Racing Enthusiastic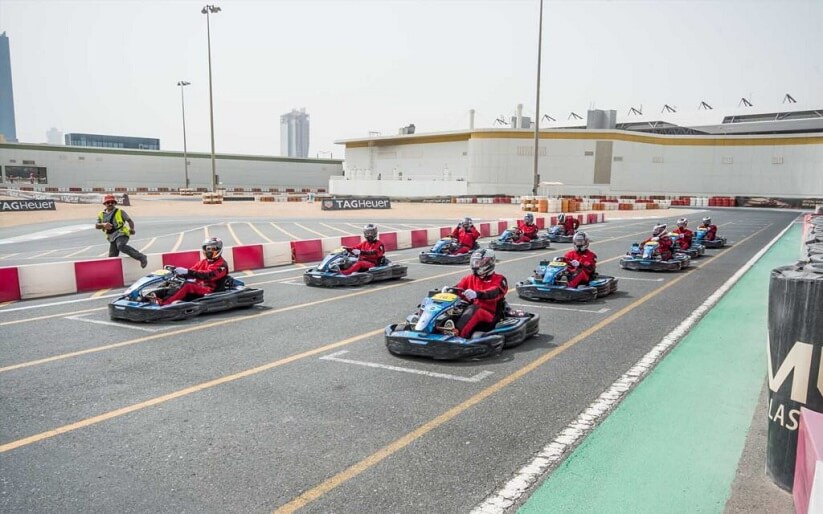 The Dubai Kartdrome features two outdoor tracks and one indoor track. The outdoor tracks are the International Track and the National Track, while the indoor track is the Academy Track.
The International Track is a 1.2 km long track that is designed to offer a high-speed racing experience. The National Track is a 0.8 km long track that is designed for novice and intermediate drivers. The Academy Track is a 620-meter indoor track that is designed for junior drivers.
Timing:
The outdoor and indoor trials are functional seven days a week. The times from Sunday to Saturday are from noon to midnight. Race and Drive Hub is also open from 9 hours to 17 hrs seven days a week.
Duration and Pricing:
This particularly slackness on the thrilling racing ride understanding or offers you decide on. The price package is starting from 115 AED.
Best Time to Explore:
Along With outside and inside circuits also a karting academy and numerous extra attractions. it is an encouragement that you can explore during any element of the year.
Dubai Kartdrome Best Experiences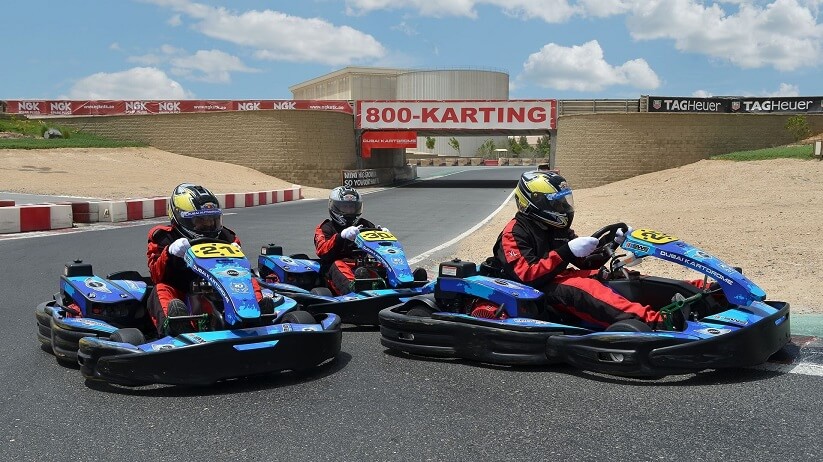 The Dubai Kartdrome offers kart racing experiences for all levels of drivers. Whether you are a beginner or an experienced driver, there is something for everyone. The kart racing experiences at the attraction range from arrival and drive sessions to corporate events and team-building activities.
Arrive and Drive Sessions:
The arrive and drive sessions are perfect for individuals who want to experience kart racing for the first time. These sessions are open to drivers of all skill levels, and no prior experience is necessary. The arrival and drive sessions include a briefing session, safety equipment, and rental space. The sessions are available on both the International and National Tracks.
Corporate Events:
The attraction also offers corporate events and team-building activities for businesses. These events are designed to promote teamwork, communication, and leadership skills among employees. The corporate events at the Dubai Kartdrome include kart racing sessions, team-building activities, and catering services.
Highly-Skilled Gears:
The Dubai Kartdrome has a fleet of over 30 karts that are suitable for drivers of all sizes. The karts are maintained to the highest standards and are equipped with safety features such as roll cages, seat belts, and helmets. The karts are powered by Honda engines that can reach speeds of up to 120 km/h.
Dubai Kartdrome Karting Academy:
The Dubai Kartdrome Karting Academy is a motorsports school located in the city of gold, United Arab Emirates. The academy offers a variety of karting programs and courses for beginners and advanced drivers of all ages. It aims to provide a safe and enjoyable learning environment for those who are interested in pursuing karting as a hobby or a career.
The courses offered at the academy include introductory courses for beginners and advanced courses. For experienced drivers, and coaching programs for those who want to improve their skills. The academy also provides training for corporate events and team-building activities
Facilities:
The facilities at the Dubai Kartdrome Karting Academy are state-of-the-art, including a 1.2-kilometer track, a fleet of karts, and a team of experienced instructors. The academy is affiliated with the Dubai Autodrome, which is a motorsports complex that hosts a variety of events throughout the year
Overall, the DAKA experience is a great place to learn the skills of karting in a safe and controlled environment. Whether you are a beginner or an experienced driver, the academy has programs that cater to your needs. As well as it can help you take your driving skills to the next level.
Dubai Kartdrome Highlights
The city of gold is a popular karting facility here are some of its highlights:
Indoor and Outdoor Tracks:
It features both indoor and outdoor tracks. The indoor track is 620 meters long and the outdoor track is 1.2 kilometers long. Both tracks are equipped with state-of-the-art timing systems and safety features.
Karting Academy:
The attraction has a Karting Academy that offers coaching and training programs for both adults and children. The academy's programs include karting basics, advanced driving techniques, and racing strategies.
Corporate Events:
It is a popular venue for corporate events and team-building activities. The facility can accommodate large groups and provides a range of services, including catering and event management.
Racing Leagues:
It hosts several racing leagues throughout the year, including
The Sodi World Series.
The UAE Rotax Max Challenge.
The Endurance Championship.
Facilities:
It has a spectrum of establishments for visitors, including
a restaurant.
a coffee shop.
a viewing terrace overlooking the tracks.
The facility also has a pro shop where visitors can purchase racing gear and souvenirs.
Championships:
The attraction is known for hosting prestigious championships. Such as the Dubai O-Plate and the 24-Hour Endurance Race.
Available for All Ages:
It provides a fun and exciting experience for all ages, with karting sessions available for children as young as seven years old.
Overall, Dubai Kartdrome is a world-class facility that offers a thrilling and enjoyable karting experience for visitors of all ages and skill levels.
Conclusion:
In conclusion, the Dubai Kartdrome is a must-visit attraction in the city for anyone who loves speed and excitement. With world-class facilities, a variety of kart racing experiences, and a dedicated team of professionals. The attraction offers an unforgettable kart racing experience that is suitable for all ages and skill levels.