Al Noor Island in Sharjah - A Mesmerizing Oasis of Nature & Art
Posted On 07-Aug-2023
Sharjah's Al Noor Island has become a well-liked vacation spot for both locals and tourists, particularly families looking to unwind. Entering Noor Island is like stepping into a brand-new world, one packed with fascinating attractions that challenge the imagination.
Al Noor Island in Sharjah has a wide variety of activities, including breathtaking light shows, amazing artwork, shopping centers, and butterflies flitting about. For those looking for a peaceful respite from the city's bustle, the Literature Pavilion offers. Everything you need to know about this special place is in this detailed guide.
Encounters In Al Noor Island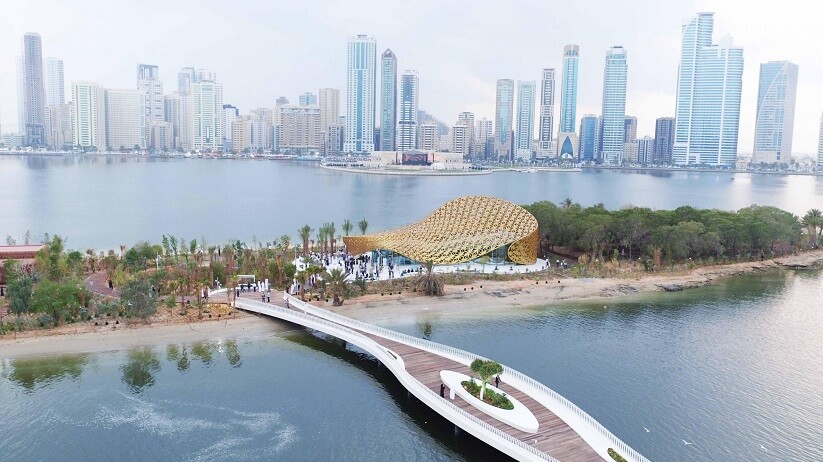 Include a description and a picture of Al Noor Island. The island is home to breathtaking artwork, hypnotic light shows, and the beautiful presence of fluttering butterflies. Additionally, visitors seeking a vacation from Sharjah's hectic metropolitan life and shopping malls may find the serene Literature Pavilion to be the ideal getaway. Everything you need to know about Al Noor Island in Sharjah is covered in this guide.
Butterfly House:
More than 500 butterflies, representing 20 different and endangered species, may be seen on Al Noor Island. The Butterfly House, a mesmerizing enclosure tucked inside a wonderfully constructed, nature-inspired structure, is the main draw. This guarantees a cozy setting with the right amount of moisture and enables natural light to illuminate the butterfly refuge.
The Butterfly House is completely covered in rich vegetation, giving the butterflies the ideal hiding place and shelter, ensuring they feel at ease in their habitat. A collection of priceless avian marvels, including the pink rose and emerald yellow-tailed jay, as well as other fascinating species, may be found inside.
Also Read: Sunbathing in Dubai
Butterfly House Tickets:
In addition to the entry price, there is an extra charge to enter the Butterfly House. The information for the optional guided tour of this beautiful sanctuary is as follows:
Cost:
AED 15 per head, must be aged around 13 and above
For kids, AED 10 per head & the age must be between 3 – 12 years
Timings:
You can see the attraction from 09:00 am to 06:00 pm & it remains open 24/7.
Art & Sculpture:
In every way, Al Noor Island in Sharjah embraces creativity, nature, and the arts. The island features six distinctive creations, ranging from one-of-a-kind sculptures to specially built installations, all of which beautifully merge with the local environment and culture.
Admire the Torus' style and brilliance, which features metallic accents and mesmerizing light shows. Get ready to be astounded by the egg-shaped OVO, which expertly combines water, wood, and LED lights to captivate you.
Discover the straightforward profundity of the abstract and angular Columns' art, which stands for tenacity and advancement. Instead, immerse yourself in the reality of the Fossil Rocks' unrelenting trio.
Literature Pavilion:
You can discover your inner poet at Al Noor Island's Literature Pavilion. It features an exquisite combination of vivid colors, plush cushions, and poetry words expertly written in Arabic calligraphy.
As soon as you enter the pavilion, the tranquil sound of a fountain and soft music transport you to a delightful heaven.
Discover comfort in the elegant decor, lose yourself in a book, or let your creativity run free by penning down thoughts and sentiments in this peaceful haven. Your creative juices will certainly start flowing in a serene environment.
Landscaped Gardens:
Nothing is more calming than being surrounded by unspoiled nature. Inhale deeply, and allow the surroundings to envelop you.
Over 70,000 carefully chosen plants and trees call Al Noor Island near Sharjah home, each of which contributes to the island's distinctive sceneries.
There are tall cactus, tree specimens that resemble bottles, several medicinal plants, and an ancient olive tree that has been standing for more than two centuries in this botanical collection, which is very stunning. The variety of plants on the show is impressive and merits all the praise.
Al Noor Island Beauty at Night:
Thanks to its beautiful gardens decorated with stunning art pieces and the wealth of natural beauty, Noor Island is frequently called mysterious. However, the location has a genuinely surreal atmosphere thanks to the brilliant LED lights.
With glowing neons and shimmering fairy lights illuminating the trees, roads, art pieces, buildings, and even the bridge as dusk falls, the island transforms into a beautiful wonderland. Al Noor Island visitors must experience this beautiful spectacle.
The Radiant Meadows floral garden stands out the most among the breathtaking exhibits. It displays a lovely blend of technology and nature with its 1200 fiber-glass blossoms that emit light and change colors in unison. Its captivating allure must be personally experienced to be truly appreciated.
Al Noor Island Things
Playground:
A well-liked and family-friendly location, the play area on Al Noor Island provides children with excellent outdoor entertainment. Swings, slides, climbing walls, and obstacle courses are just a few of the toys available to children that will keep them entertained for hours.
The playground's covered seating area, which is surrounded by trees and tables, makes it simple for parents to keep an eye on their young children. Al Noor Island has transformed into a family-friendly destination with fun activities for all ages as a result of this facility.
Al Noor Cafe:
Noor Café is the best option if you're searching for a place to stop for a treat or a drink while touring Al Noor Island. They provide a variety of healthy and delectable alternatives on their menu, and the cafe is naturally well-lit. Additionally, the roomy seating area offers the ideal ambiance for enjoying a quick dinner.
The café transforms into a wonderful setting as night falls, with airy interiors and warmly lit furnishings creating a warm and welcoming ambiance for a delightful evening experience.
Café Tickets:
Obtain an all-inclusive Al Noor Island access card and enjoy a great meal at Noor Café.
Cost: AED 55
Timings: All Day & the functional hours rely on the attraction timing
Al Noor Island Ticket Price:
The price is AED 35 per person for those above the age of 13, and AED 20 for children between the ages of 3 and 12. The Butterfly House tour is not included in this cost.
The Noor Island entry gate is located just next to the famous Al Noor Mosque. The mosque is renowned for offering some of the best mosque tours in the United Arab Emirates. Tickets for Noor Island are available at the front gate.
You can explore the island and go to the enchanted Gleaming Meadows with the basic admission ticket. Enjoy a stroll through the wilderness while taking beautiful pictures.
Al Noor Island Packages:
If Sharjah's historical sites don't spark your attention, Al Noor Island makes for a relaxing retreat from the rush of urban life. Additionally, the island offers a variety of leisure packages that can be customized to your interests.
Wrap-Up:
The Butterfly House is the most alluring site, providing a special setting for up-close butterfly observation. The playground and the wide variety of sitting options on the island will please families with young children.
Al Noor Island's admission charge and activity tickets may seem expensive to some people, but the experience and rewards you receive make it a worthy investment. A visit to Al Noor Island ought to be on your Sharjah agenda if you value tranquility and nature.
Moreover, don't forget to check out the Sharjah Desert Park if you're looking for additional family-friendly attractions in Sharjah.