Museum of the Future - An Impressive Latest Wonder in Dubai
Posted On 26-Feb-2022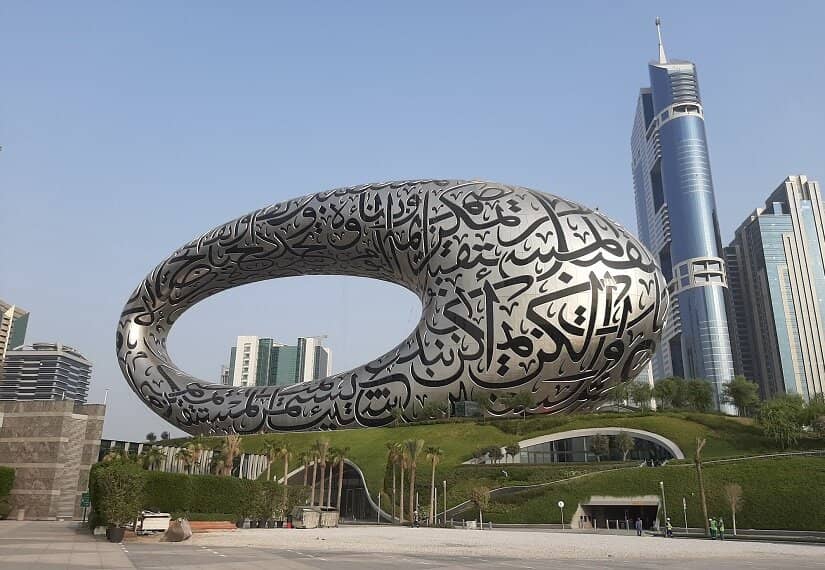 After the Museum of Illusions, the international and local visitors will get to admire one more attraction in Dubai. The Museum of the Future Dubai enters the numerous architecturally and outstanding buildings in the town, Besides, it is a hub for creativity, knowledge and hope, The golden city of the United Arab Emirates is now all ready to show us a glance at the Museum of the future and honestly we can't stay for even a day. Where you will get to explore amazing experiences. Where the cooperative will give visitors an insight into what awaits humanity.
Even though this city is blessed with a number of fascinating attractions. Such as desert safari Dubai, Chillout Ice Lounge etc, but there is always something brand new attraction. You will get to experience Dubai. From the most elevated ever setup and the largest ever picture frame to the greatest organic flower garden. On another side, right now people are cherished and participating in the grandest ever World Expo 2020. However, at the same time, they explore some of its most megaprojects arriving at completion.
Completing this checklist is the Museum of the Future! Even before it is seen by the people. It has acquired huge appreciation from every corner. Wondering what is the main reason? Because of its spectacular design. Which is also praised to be one of the best demanding projects ever launched. Want to acknowledge the highlights of the Museum of the Future? because it is now available to visitors. We've worked a lot to cover almost everything about this breathtaking museum in the next read.
Museum of the Future Detailed Overview
1. Hype:
It covers an area of 30,000 sq m, it is 77m tall, the counts a special angle to the skyline of the Dubai city. It joins the levels of Burj Khalifa and Dubai Frame. Having seven floors of production space, the front is surrounded by steel. Which consists of 1024 Arabic handwriting panels. The portions have been assembled by robots, however, it is already presenting us a glance into the future. The local and international visitors will get to encounter technologies from the future. This advanced attraction of the city is a glimpse into what will be a regular establishment in the 21st century.
2. Purpose and Boundary:
As the slogan of this museum is "See the future, create the future", which makes it unique from other projects in Dubai. Museum of the future is the enterprise of DFF, which is the short form of Dubai Future Foundation. Which is founded for shaping the future of the area's main sectors. HH Sheikh Mohammed bin Rashid Al Maktoum guided it. He is the ruler of Dubai and the Vice president of the United Arab Emirates.
The idea of the Museum of Future was sooner presented as a sequence. Whereat the World Government Summit of themed quick exhibitions in 2014. Later, it has showcased crafted multiple vibrant themes and immersive technologies with multi-sensorial ventures. However, that is experienced in multifarious sectors including healthcare, climate change, food safety, etc.
According to UAE's Vice president, this unique enduring museum serves as an incubator to promote absolute statements and create breakthrough creations. It currently performs as the most extensive of its style venue to find future tendencies and design futuristic prospects. In a brief nutshell, you'll get to visit where Dubai likes to boss itself in destiny.
3. Design Features and Facilities:
It has been called among the checklist of the 14 most beautiful museums in the world by National Geographic magazine.
It is not only one of the biggest fancy museums ever assembled but also the most stylish ever.
The theme design is influenced by the Feng Shui concept.
It is LEED-certified and has a flawless model for the region's low carbon networks. All the credits go to its passive solar segments. Which is praised by energy solutions and minimal water.
One of its prominent characteristics is its Arabic calligraphy (with over 700 words) inscribed on its surfaces. Also, do you know what's more impressive? these are eye-catching Arabic words. Which are inspired by the poems composed by HH Sheik Mohammed Bin Rashid Al Maktoum.
Its structure also concerns the use of around 1024 panels. Which are made up of stainless steel and fibre-glass. Impressively, the exact approach, used in the aviation endeavour. It has been operated for these joint-free gatherings.
The great and advanced technologies and 3D techniques are used in its constructions.
There are numerous facilities in the Museum of the future Dubai. Including classrooms, high-end labs, auditorium and theatre. However, you will also get to discover parking slots and retails.
4. Ticket Price:
Museum of the future tickets cost 145 Dirhams for the person above three years old.
5. Timings and Locations:
The opening hours for the visitors are 10 AM - 6 PM every day. Where the last entry for the visitors is one hour prior to closing time.
It is located on Sheik Zayed Road, Trade Centre, Trade Centre 2, Dubai, UAE.
Museum of the Future Dubai Expectations
This is not an ordinary museum, here you will get to explore something really exhilarating, and trailblazing. It is different from every tour you have explored before. While it's valid that you'll get admire specialised technological inventions and foremost of its kind displays here. As you see, it's not all about flying gadgets, high tech robots or lighting displays.
1. Most Creative Productions:
Its amazing experience will make your expedition to the space station. Which is way far from the planet. You can experience immersive know-how that moon can pivot into renewable energy. Furthermore, know about the frontiersperson rooming and working there.
Moreover, marvel at the magnificence of nature in a fully new course. Thanks to the online rendition of the Amazon rainforest. Where many species are shown in a considerable mesmeric mode.
All the way long, you will get to discover a DNA library. Which is an immaculate visit to both contribute and organise towards nature. There you can sense the future of wellness. Where in front of your eyes, the world from a thoroughly unique light as you examine its manifold units.
2. Enter in 2071:
As you join the entry, get prepared to trek 50 years ahead. When you investigate its wonderful presentations. Which will take you via time and space. It consists of seven floors, each of them is giving a reflection of a movie set directly from the heightened future of tech.
3. An Impressive Event Venue:
Along with relishing an ever-changing collection of productions. You can meet and greet with some of the enterprise leaders. Also, you're eligible to participate in an assortment of fascinating science and technology-connected stuff. Including conferences, meetings, events, workshops and classes from time to time.
4. Yesterday Today Tomorrow:
It shows the ever industrious collection of ground-breaking outcomes. That is positioned to revolutionize the globe. Do you want to know the best part? it is generated in collaboration with both intimate and general partners. It additionally presents your wisdom into the manner companies, designers and researchers. Which advance up to take essential challenges of today.
Conclusion:
With the numerous ground-breaking productions on presentation. it is substantial that this advanced museum will fritter you out with its coming-themed productions. It does not matter you're that person, inspirational about hi-fi technology and cutting-edge science.
You simply enjoy checking out Dubai's amazing architectural crossroads. Also, make sure to contain the Museum of the Future on your bucket list Dubai tour. Have a properly planned trip with the refined booking of the best tour accommodation and exciting activities. A Dubai holiday is more comfortable to plan and more exhilarating to experience than you have ever presumed.