Chillout Ice Lounge Dubai In theTimes Square Center
Posted On 15-Feb-2022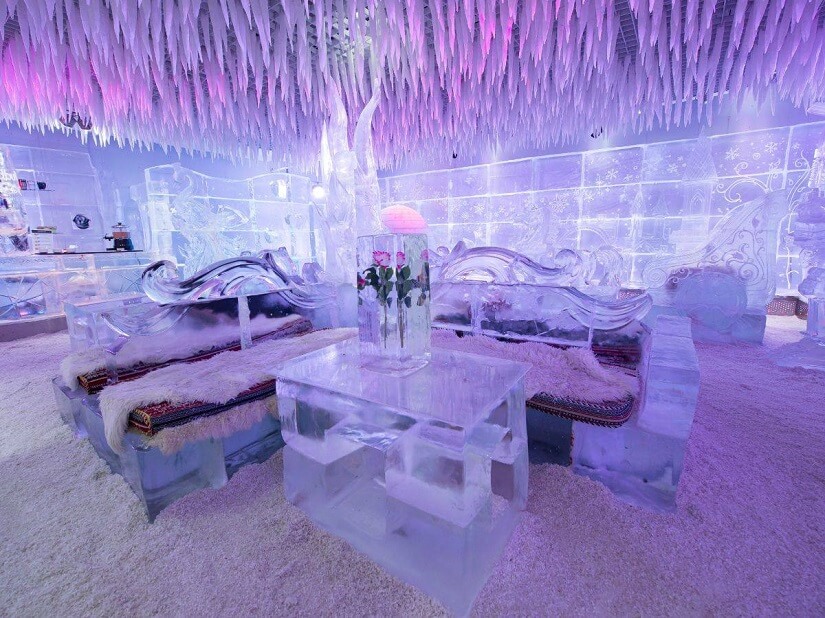 You will find the first chillout ice lounge in the Time Square Center Dubai. It gives an unparallel and unique chilling experience for local and international visitors since June 2007. However, the Middle East's first chillout ice lounge is situated in the Time Square Center Dubai, which is a Sharaf Group venture. This is the most enjoyable quick excursion someone can experience in February 2022. It is an exciting place consisting of its ice seating arrangement, sculptures and illuminated interiors etc at the temperature of -6 degrees.
Times Square Center Dubai is a fuzzing mall that inspires a palm-filled atrium. Including a range of restaurants, stores, salons and other fun-filled interests. Besides, you can shop for your favourite stuff, such as electronics, furniture, and toys. However, they are sold from famous shops like Biorganic, Ripe Market, Ankita, Threads and DG+. Along with these amazing wonders, you can also be facilitated with gaming zones, gyms and spas. That will fill your day with full action. Refill your fuel as you taste scrumptious food at Caribou Coffee, Culture, and multiple cafes in the Time Square Center Dubai.
The place in Time Square Center Dubai spreads across 2500 square meters area. Where you will feel relaxed in a stimulating atmosphere. Just the way adventures seekers enjoy desert safari Dubai. The most beautiful thing about this ice land is, It connects the below-wintry temperature with exceptional interiors. This is famous for its impressive seats, renditions, sculptures and tables. They all are crafted with real ice and designed by the Sharaf Group venture.
Chillout Ice Lounge Dubai - Detail Overview
Chillout ice lounge Dubai is famous as the first chilly wonderland in the Middle East. It is well maintained and beautifully beamed at minus degree temperatures. Where the temperature remains minus six degrees inside and forty-five degrees outside normally. If you have a quest to explore a Dubai city tour, must come across the Time Square Center.
Both residents and international travellers herd to the zone to enjoy the inorganic winter season and develop its arctic-like environment. The expositions and shades change at intermissions building curiosity of what will happen next. Travellers are provided warm clothes, along with the option to admire free drinks at the bar. At Chillout ice lounge, you will gonna experience a rundown of multiple cool experiences.
Timings:
It opens from Saturday to Wednesday from 10:00 AM to 10:00 PM. Or from Thursday to Sunday from 10:00 am to 12:00 AM
Ticket Price:
The ticket price starts from 70 AED, where you can grab the best seasonal deals to get a discount.
Chillout Ice Lounge - Things To Do
1. Feel Warm and Comfy:
The Chillout ice lounge ticket contains thermal dresses so that you will get too comfortable. Once you enter the lounge, you'll be equipped with thermal clothes to preserve yourselves warm. It includes disposable woollen gloves, a parka (a rich hooded jacket), and a couple of socks and shoes (if needed). Lengthy pants can be easy to handle. Then, you can take a car seat and roost on the chair cut out of ice. While remaining comfy in these warm clothes.
2. Escape the Extreme Dubai Heat:
As you know, its temperature remains 50 degrees Celsius during the summer months. However, at this lounge, you can chill out at -6 degrees to enjoy the freezing ambience. With an opportunity like this, you don't have to grill with the hot weather during the daytime. The exceptional venture and fascinating interior will clean you off the floor.
3. Explore the Buffet Areas, Lobby and Lounge:
It has a buffet area, lobby and lounge, in between you will find a buffer zone. The buffer zone is kept at 5 Celsius, where the travellers are envisioned to kill a few minutes. This provides sufficient time for a body. To adjust their bodies to the low temperature in the buffet or dining area.
4. Click Pictures with the Camel:
It is a pleasure to explore the golden Arabian desert while riding on a Camel. But Chillout Ice Lounge Dubai brings this pleasure to the next level. Where the area contains an ice Camel sitting in a crisp aura. Besides, there are other animal statues, king-size chairs, hearts, an igloo and more wonders. They are way better to make a scenic background.
5. Encounter the Exceptional Interior:
With the remarkable invention in architecture, illumination and refrigeration. The zone forms a stunning ornament. It shows an exceptional blend of glass, steel and ice. There are multiple factors used to count a flavour of genuineness. Such as stalagmites, ice splinters and stalactites.
On the other side, an attractive segment is awaiting, which is the dispersed lighting. After a specific duration, it modifies its penetrates and shades via ice crystal blocks. It is observable as deep colourings and keeps changing the patterns. All of this wonder has been smartly arranged to construct one of the best chillout ice lounges on the globe.
6. Organize Shows and Events:
This ice lounge is also a wonderful place to arrange corporate film shoots, private events & hire, surprise/success/birthday parties. That indicates you are eligible to admire the utter fun by throwing a party on your success, anniversary, birthday or any other special affair. It presents a twist to your normal events in Dubai. Where all the credit goes to its plummeting temperatures which are minus six degrees.
7. Enjoy Delightful Desserts and Refreshing Drinks in the Lounge:
The concept is to grab a recess from the heat and eat in a chill atmosphere. That fascinates you to Iceland. Every visitor obtains a refreshing welcome drink here for free. Besides, the lounge gives a well-designed menu. Including barbecues, hot soups, juices, sandwiches, cakes, tea, hot chocolates and coffee. Along with a combination of confectionery, mocktails and desserts. Where nitrogen-cooled popcorn and hot chocolate are the signature items and are highly recommended. As they instantly provide you with the Alps feel. Long story short, this Chillout Ice Lounge Dubai serves delicious hot food and refreshing beverages.