13 Best Activities, Visiting Places and fun-filled Tours in Dubai
Posted On 27-May-2021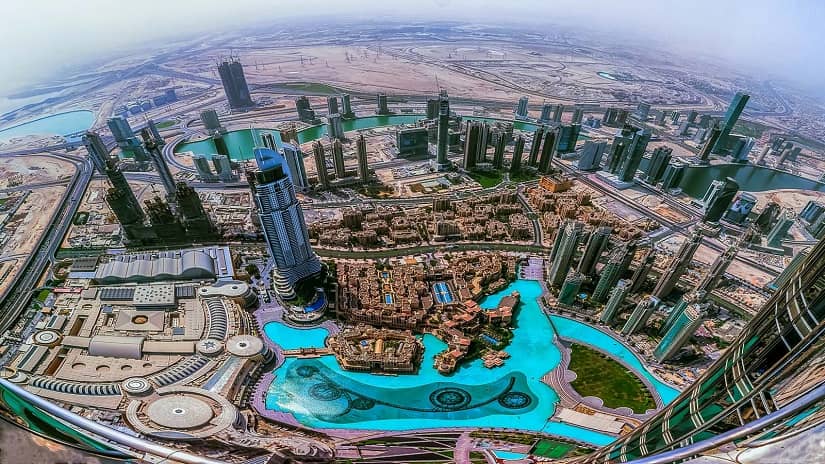 These 13 tours in Dubai are the main reason that people visit during their holidays. However, many people love to do shopping but while exploring them, you will make the vacations lifetime memorable. Such as desert safari, Hatta Kayak, dhow cruise, Deira Creek and the sightseeing of famous buildings and luxurious hotels. But if you're wondering among these tours in Dubai, which one is best?. The best and most experienced tour is the "desert safari. Make sure the dress code while exploring tours must be light and comfortable. Along with exploring the trip, you will get a great experience of great quality food, accommodation and service. Which make this golden city such a stand-out tourist destination.
Likewise, must-try activities in Dubai with complete thrill. Where water and desert rides are included. Dubai is an ideal stopover for thrill-seekers as it provides numerous adventurous stuff at the best prices. To fill the thirst for adventures, such as dune bashing, quad bike, dirt bike, jet ski, dune buggy and the rides in the indoor theme parks. Along with them, these are the following amazing activities
Explore the fishing town at Al Bastakiya
Spend a while in the Arabian desert
Avail to watch the sunrise view over the city
Explore the gold and Old Souks at the Deira Creek area
Avail the Falcon Photography Opportunity
Explore the traditional fishing boats
Check out the wonders at the Dubai Miracle Garden
Never miss taking a view of At the Top - Burj Khalifa
13 Amazing Dubai Visiting Places
The Dubai visiting places offer everything a traveller desires. Where Halal food is easily available for Muslims. Many people travel with families during their holidays. This golden city is extremely safe for everyone, especially for the tourists and locals too. Where the winter time is more recommended than the trip summer to explore the city. With so much to explore, we made the best highlights, Where you can experience transverse in the desert, spectacular buildings, activities and lavish dinings in the golden city of the UAE. So without any further ado let's explore these amazing 13 visiting places in Dubai.
1. Desert Safari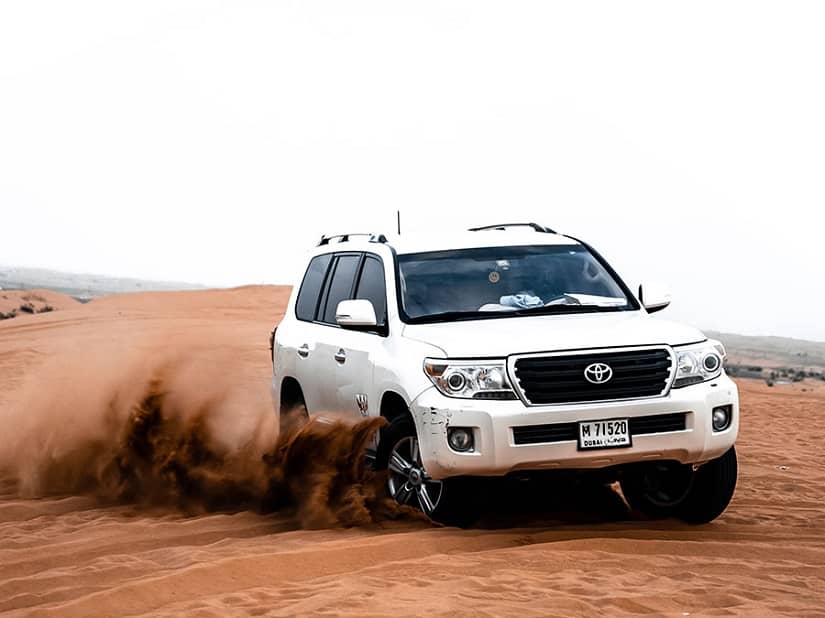 Desert Safari is a jeep or 4X4 vehicle drive through a huge mound of sand. This vehicle drives like a roller coaster on the red high Arabian desert. Where that vehicle is completely loaded with safety features and roll-cage covered. 4x4 safari skill is driven by the licenced professional to ensure the safety of the traveller.
Kinds of Desert Safari:
1. Morning Desert Safari
Morning desert safari gives a brilliant start among the tours in Dubai. Where the guests are fresh and excited to enjoy the thrill. The sunrise gives you the glow and the opportunity to capture the beauty of the Arabian sand. Morning desert safari allows you to leave the hectic and busy city life to the heavenly sandy land via 4X4.
Where for the 4 hours witness the splendid views of the rare birds, desert scenery and taste the flavour of thrill. After experiencing the adventurous rides, you will be served soft drinks and refreshments to quest your thirst and hunger. Then you will be dropped back to your place to let you explore the rest of your day as per your desire.
2. Evening Desert Safari:
Evening desert safari offers an amazing experience to undergo the ultra beauty of the Arabian desert in the dusk hours. This 6 hours tour departs by picking you up from your residence or standard location points via Toyota Land Cruiser or Bus. Where the Bedouin-inspired campsite you will get to experience many thrilling sand activities. Such as 4X4 dune drive, quad bike, dune buggy, camel ride, Horse ride and falcon photography.
In the evening desert safari, you will get to admire the unlimited refreshments, sunset & Arabic costume photography, 7 Live entertainment shows, Henna Designing and BBQ buffet dinner with an extensive variety of veg and non-veg dishes.
3. Overnight Desert Safari:
Overnight desert safari is a perfect 18 hours tour if you want to spend your night among the Arabian dunes. Although this tour is a long-form of evening safari. Where the 4X4 dune drive, desert camp fun, Arabian style BBQ buffet dinner and the overnight camp are touristy experiences. Enjoy your sleep in fun-filled privacy under the canopy of the stars. Where the next morning breakfast with the stunning sunrise views splendid fun.
2. Deira Creek Area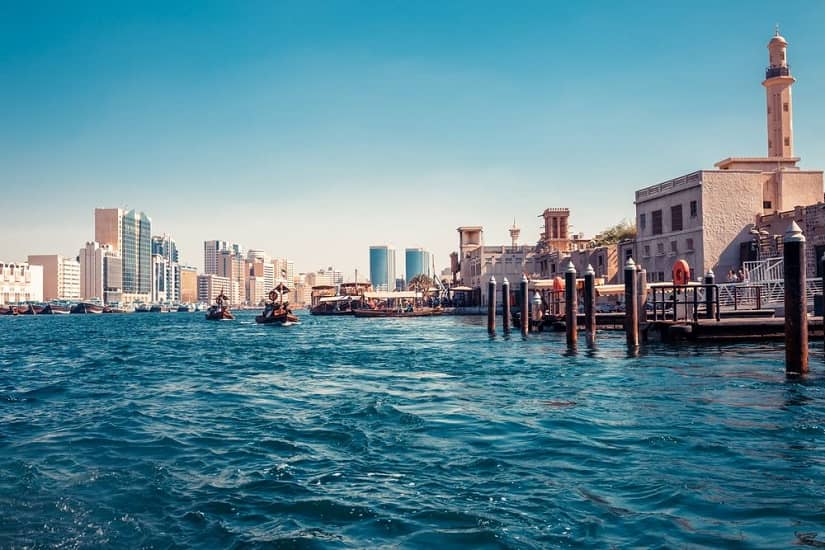 Deira Creek is one of the most fascinating districts in this Dubai city. You will find extreme fun from sailing on the traditional dhows to navigating souks. Most travellers love to go fishing there. There are many places in the Deira area to explore.
1. Dhow Moorings:
Start your day to explore the locations where the traditional wooden boats are lined along the edge of the Creek. Hence this spot is one of the must-see Dubai visiting places.
2. Gold Souk:
In Dubai, you can easily buy gold at cheap rates. You will find hundreds of jewellery shops in the Gold Souk, which are lined under the wooden roof. There are many amazing florid Arabian designs from bracelet to necklace.
3. Old Souk:
Old Souk is famous for buying some specific items. Such as textiles, clothing and cheap toys. There is also a spice souk in the old souk which is ideal for buying frankincense in multiple grades and forms.
4. Perfume Souk:
You can buy expensive to cheap Arabian perfumes or attar from this place. Where the shelves are piled high with a droll of canisters and glass jars containing fluids, liquids and substances of every imaginable scent.
3. Dhow Cruise Dinner & Onboard Sightseeing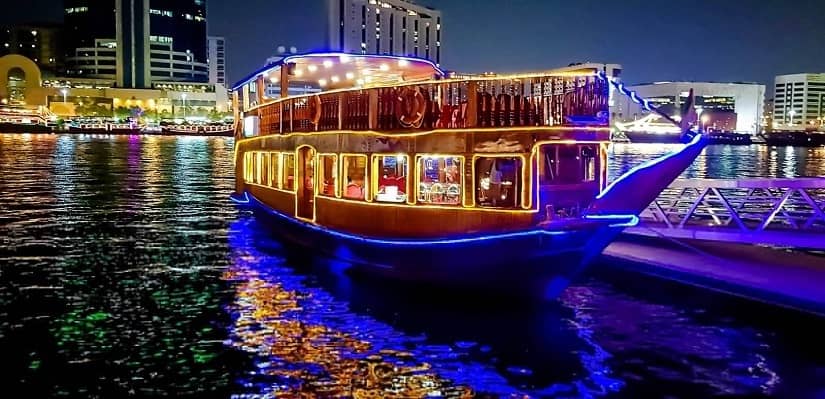 Dhow Cruise offers two hours of onboard sightseeing on the Deira Creek and Marina Area. Where two live entertainment shows and a delicious buffet dinner are included with the sightseeing. Where the open-air deck offers an exotic and breathtaking view. Besides, at the time of arrival, you will be served welcome juices where soft and pleasant background music is played. To ensure you enjoy the environment.
There are the best travel operators such as Happy Adventures Tourism. Who offers the best and affordable tours in Dubai. Where you will find the best dhow cruise packages at a discounted price. When you're about to explore the golden city onboard make sure to choose the ideal time. Which would make your memories last lifelong.
4. Burj Khalifa - At the Top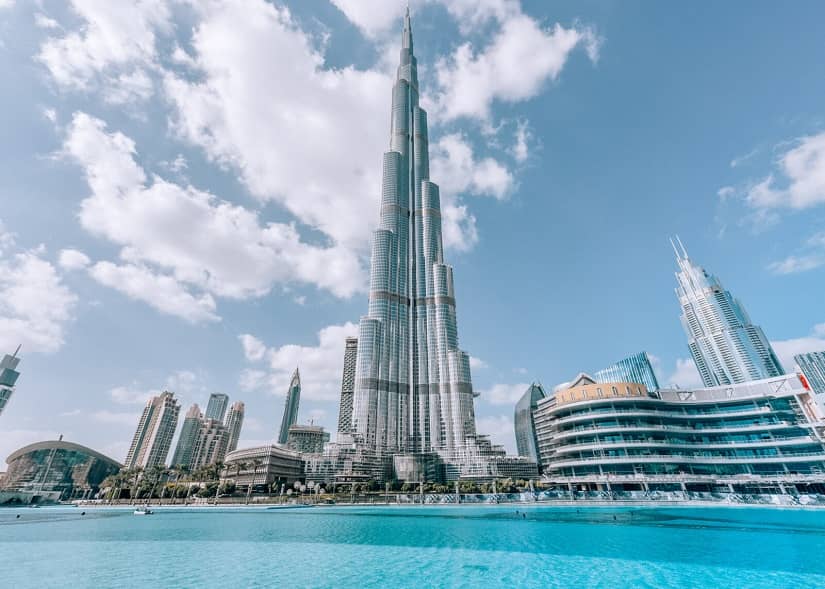 Burj Khalifa - At the Top takes the spotlight when you are willing to explore Dubai. This amazing building was designed by Owings, Merrill's Adrian Smith and Skidmore. Their company previously crafted the World Trade Centre and Willis Tower. It has 160 floors and its height rises at 828 meters. Besides, there are many fine dining experiences, residential units, magical observation decks and offices as the magnificence of the at the top.
The best part of this At the Top tickets are available at any variables and timings. These top floors lead you to buy Burj Khalifa tickets to explore at the top. This amazing attraction has set many records and become the world's tallest building.
5. Legoland Theme Park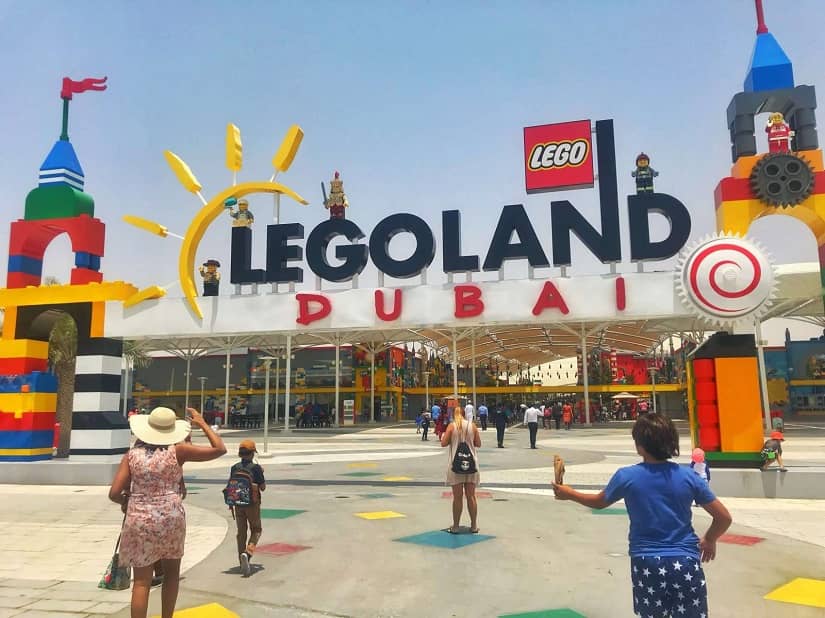 Legoland theme park is the ultimate attraction in the golden city of the UAE. This theme park is ideal for kids 12 years or under. Besides, this theme park includes many amazing attractions. Such as roller coasters and other extreme rides, shows and attractions. Legoland park is themed around the colourful Legos.
There are 20 slides and 14 attractions that provide you and your family an extreme thrill and fun. For the fun-filled here are the following experiences.
Cherish the topsy-turvy adventures on the Dragon coaster
Stare at the Burj Khalifa Lego
Built a city by your hands
Enjoy the Ninjago Show
Explore the treasures long forgotten
Splash at the Water park for fun
Bring home your personal brick
6. Hatta UAE Mountain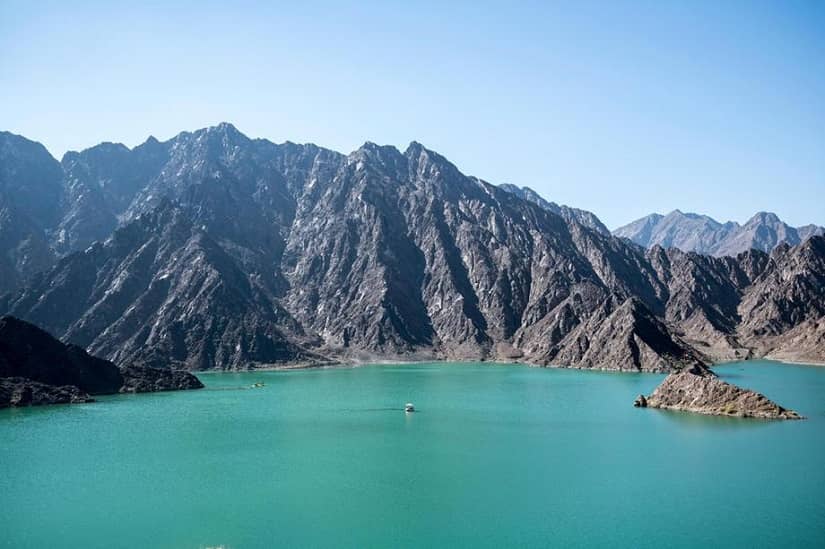 Hatta UAE is a combo Dubai tour of wonderful sightseeing and mountain trekking. You can also explore some outstanding outdoor adventurous activities like Hatta Kayaking with your family. Furthermore, this tour provides endless charming sights via 4X4 vehicle. There is also a natural freshwater pool, where you can take a dip especially if it looks exciting in the summer season.
Moreover, you will also get to explore Hatta Wadis, Fort Hotel, Hill Park, Hatta Water Dam and the Wadi Hub.
7. Bollywood Theme Park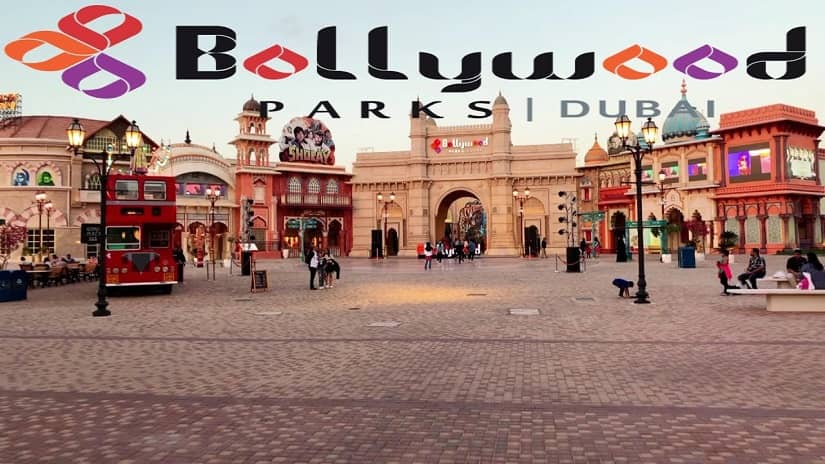 This theme park is a Bollywood inspired park, which showcases the amazing blockbusters of the Bollywood industry from Mumbai. You will find different 4D theatre adventures, such as plunging into the majestic essential Ra One and Krish. Besides, you will get to enjoy the amazing epic Bollywood performances. Which will take you back to the old '60s, 70's and 80's days.
Furthermore, experience the thrilling 3D tunnel ride and the colourful streets of Mumbai. After the success of the Indian movie "Lagaan", visit the amazing rural Indian village model. This Bollywood theme park is designed to make the Bollywood lover's dream come true.
8. Dubai Aquarium and Underwater Zoo

Dubai Aquarium and Underwater zoo offer a majestic view of the aquatic lifestyle of animals. It is also best known for the largest Aquarium in the world, where you will get to explore the animal's mysterious marine life.
It is located in Downtown Dubai and the ideal place to spend the vacation with families. The Aquarium allows you to explore a thousand aquatic animals closely. Where the Shark feeding is the must explore activity done by the visitors. Because we all are terrified of sharks, it looks amazing and different to get close and feed the shark.
Moreover, in the Dubai Aquarium and underwater zoo, visit the cutest Penguins, jellyfish, rat, King Crocodile, seahorse and many other animals.
9. Jet Ski Rental Ride At Mamzar Beach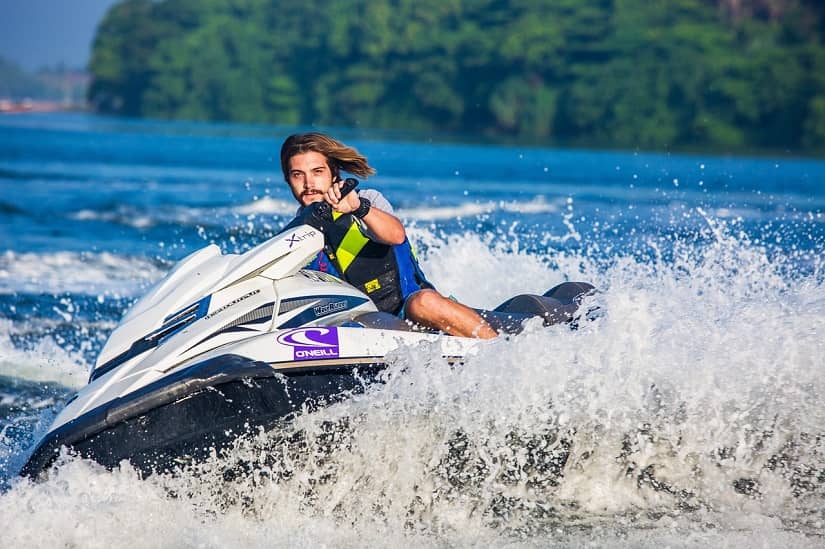 Jet Ski rental is the thrilling water activities in Dubai at Mamzar Beach. This ride is applicable for 18+, where there is no gender preference. Mamzar beach is the ideal place for a short day trip or picnic with the family. Where you can hire a jet ski rental and tour the entire beach traverse and stretch the water waves.
This thrilling water activity is perfect for professionals as well as amateurs, which is performed under expert supervision. The point is something similar to keep you warm while getting a charge out of this water ride whether you wear a wetsuit or a dry suit. This water ride gives an astounding adrenaline surge, where on the off chance that you are an expert you can perform energizing stunts while riding.
10. Wild Wadi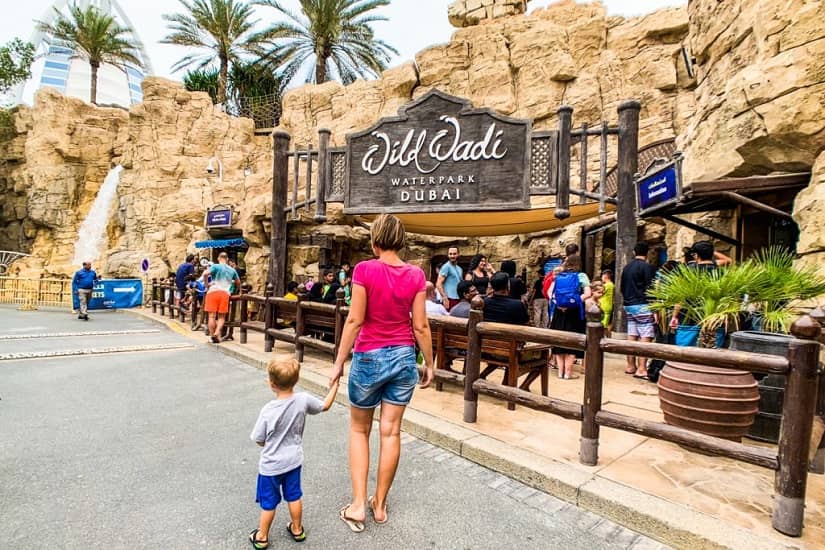 Wild Wadi is located in the area of Jumeirah next to Burj Al Arab and a fun-filled adventure water park. Which is an ideal way to skip the heat in the city. Wild Wadi waterpark is a complete combo of adrenaline thrilling rides, family time and relaxation. If you visit here to make your holidays fun-filled then you must experience looping water slides.
Moreover, it has 30 attractions, every one of the attractions rotates around the character Juha in famous Arabian fables. Subsequently giving a healthy escape to every one of its guests not separating as far as age gatherings.
If you're visiting Wild Wadi water park, you must try the Master Blaster ride. It is ideal for kids as well as adults. Where kids can likewise appreciate yet one safeguard to look is to be joined by somebody. This 15-meter long water crazy ride will empower you to wander and shout till your throat throbs.
11. Dubai Dolphinarium

Dubai Dolphinarium is a house for six famous bottlenose dolphins. Along with them, it hides seals and a few intriguing parrot species also. If you want to investigate what the Dubai dolphinarium has to bring to the table. And how you can take advantage of it, then you must visit that space. There are some certain shows here which are as follows.
1. Dolphin and Seal Show:
Here you will get to see the Dolphins performing various activities on orders, starting from playing ball to juggling and dancing. The names of these six Dolphins are Jerry, Fekla, Elvis, Kyushu, Kai and Tetka. Where the duration of the show is 45 minutes.
2. Creek Park Exotic Bird Show:
In Creek Park, you will find 20 species of parrots and exotic birds. These parrots are trained to entertain the audience with their tricks and following the commands of their trainers. Buy your tickets to witness the Green Winged Macaws, Sulphur Crested Cockatoos, African Grey, Blue and Gold Macaws, Eclectus Parrots, the Red-Billed Hornbill, Sun Conures and much more in action.
3. Meet & Greet with Dolphin and Swimming:
In this activity, you offer to swim with Dolphins. On the off chance that you are hoping to swim with these cordial creatures, you are left to pick between the knee-profound shallow water insight and profound water swimming experience. For those searching for a charming dolphin experience, this is a unique opportunity to swim with these adorable animals.
12. IMG World of Adventure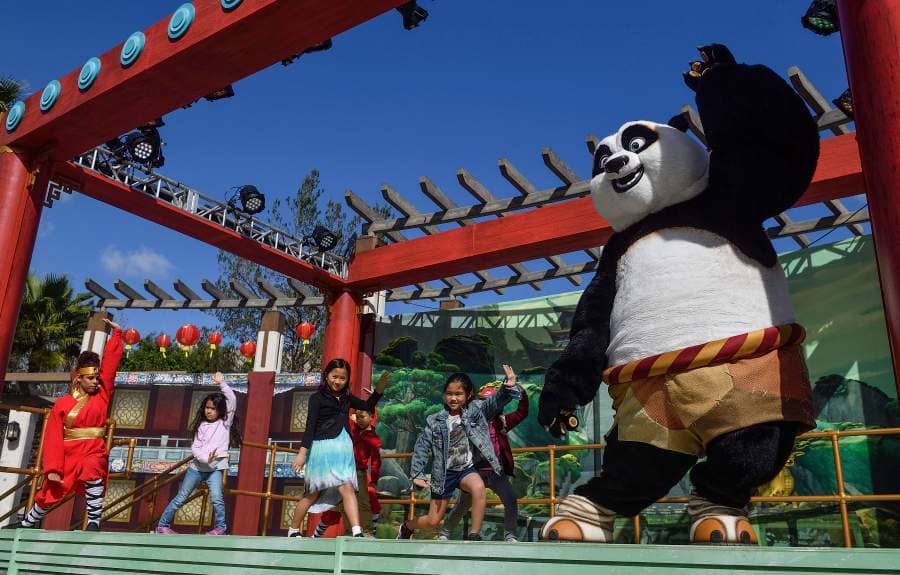 IMG World of adventure is the world's largest theme park where many tourists travel to Dubai for the experience. The roller coaster and other thrilling rides in this theme park are designed to fascinate people.
You will find many amazing adventurous zones in the IMG World of Adventures. Along with the rides, you will find NOVO Cinema is a 12 screen Multiplex. With its 3D IMAX Technology, this cinema offers a 7-star experience to the visitors. There is also the best dining option, where every zone of this theme park has its dining with multiple themes and offering multiple cuisines. Some of the restaurants are:
Caption Scoop: for the ice-cream lovers
Smoothy: Grab the delicious burgers
Spice Valley: For the BBQ lovers
Hotdog Express: Grab the best hotdogs in the town
Downtown Shawarma: Here you will get the best shawarmas
360 Burgers: Get the best burgers and Shawarmas
13. Motiongate Theme Park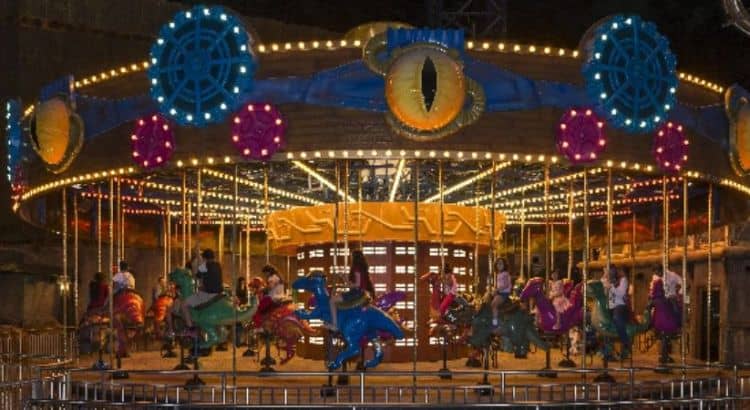 Motiongate theme park is ideal to visit with family, especially children. It is further divided into zones which are Dreamworks, Columbia Pictures, Lionsgate, Smurf Village and Studio Central. Where the Dreamworks zone is Avery's kids fravorit
In Dreamworks, you will find many famous cartoon characters on one roof. Such as Madagascar, Shrek, Kung Fu Panda and How To Train Your Dragon. Motiongate is particularly comparable to other renowned amusement parks. Parks like this are intended for families with kids and grown-ups who are youthful on a fundamental level.
On the off chance that you are not a fan, you probably won't be dazzled. Yet, if you need to be essential for your #1 animation motion pictures and experience riding your mythical beast, partaking in Po's experience, investigate Shrek's den and get that adrenaline surge with the creatures of Madagascar, at that point unquestionably you will appreciate Motiongate.