New Year 2021 Celebration in Dubai
Posted On 01-Jan-2021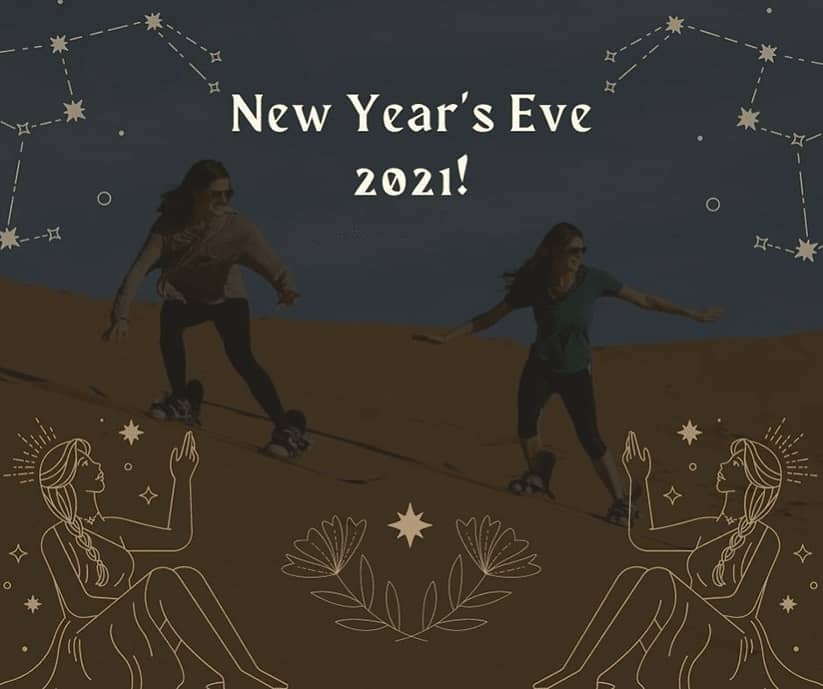 The city which is known for New year's record-breaking fireworks, that city is Dubai. If you are planning to celebrate new year's eve with your family and loved ones, this place is a must-visit for you. The timer strikes at 12:00 am on 31st December at midnight. Many tourists visit Dubai to enjoy the Dubai city tour or other special occasions. But the desert place is one of the wonderful places to welcome the arrival of 2021. Where you will get to have a blast with spectacular fireworks or after parties. So here comes must-enjoy celebrate things which will make this new year 2021 memorable for you.
New Year Eve 2021 in Duba Desert Safari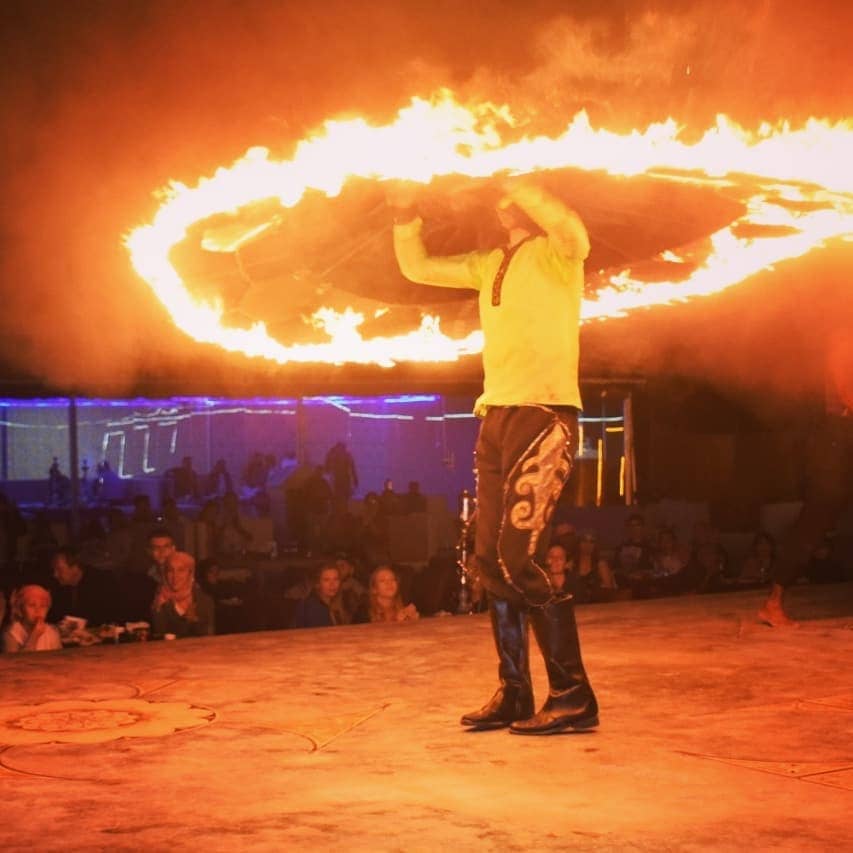 You will get special discounted offers during the new year. Dubai desert safari offers those who visit Dubai especially to celebrate some special occasions. From there, you will get every required facility. Such as from an international buffet with delicious foods, unlimited snacks & coffee/tea, and soft drinks. Also, the cake cutting element is specially held for this thing and champers at overnight to enjoy live entertainment performances such as Tanoura shows, belly dance shows, fireworks, and entertaining shows. The overnight party will wake all senses up. It is a way important to experience this if you in Dubai or planning to travel for the new year party. However, it is exciting to enjoy the dune bashing on high red dunes, a piece of extravagant live music, henna designing, buffet spread, and the fireworks. Then countdown to the New Year 2021 will start then the celebration will be started.
Highlights:
You will be picked by the lavish 4X4 vehicle from your house or hotel. Or you can either choose to be picked by the bus on standard location points, where you get to enjoy the trip with other tourists. In short, you can choose any of the packages according to your desires. Then your trip will be headed towards the desert safari camp, where you will be experienced camel riding, dune bashing on high red dunes, horse riding, and other desert activities.
You will also get to see many shops in this camp. Like if you want to buy something for your home so you can. So, after enjoying these activities, you will be requested to visit the camp, during this or another special occasion the camp is decorated and gives the next level look. From there, you will get to experience many facilities such as Arabic costume photography, henna designing for ladies and girls. You will also be provided with snacks, coffee, tea, and soft drinks. The main thing is that you will extra facilities as compared to the normal days. Also to avail the 50%-60% discount opportunity on special occasions.
New Year 2021 Celebration on Dhow Cruise
Have you ever enjoyed an amazing party gliding in a pleasingly lit wooden boat? If your answer is "No" then you must try this option. Where the breathtaking views of amazing fireworks, having a scrumptious meal, and feet tapping music is worth satisfying to celebrate on a dhow cruise This is also the best way to avoid heavy traffic thing. Do you believe only to avoid traffic, many tourists and locals go for this option. Because it will usually allow you to enjoy several fireworks displays and avoid traffic congestions at the same time. This is an ideal way to enjoy in the evening, plus enjoy many fireworks views across the city, either Dubai Creek or Dubai Marina. This sailing gives you the chance to cruise on the traditional wooden boat. Furthermore, when the clock will strike at 12, you will get to relish amazing fireworks and the yummiest New Year cake served.
New Year 2021 – Amazing Fireworks Bash in Dubai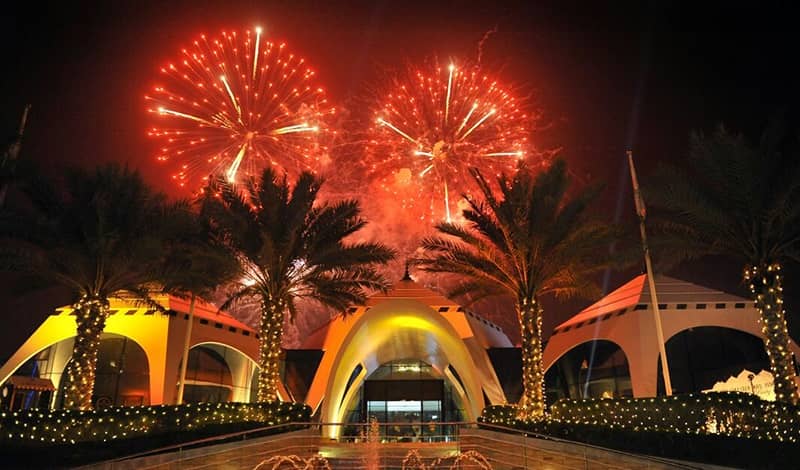 We've polished the UAE to find the hottest spots to enjoy the last few hours of 2020. Here is our pick of the best places to enjoy the fireworks bash in Dubai this year
Burj Al Arab: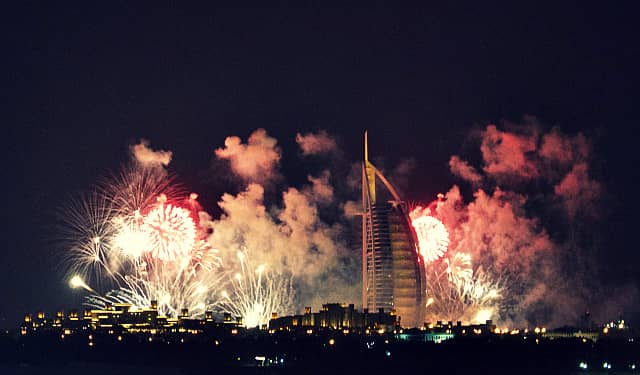 We have discovered that there were still tons of photos from the celebration with friends that we haven't posted yet. So please bear with me a moment. The Burj Al Arab's firework display is also next level to enjoy. Where you can enjoy it with your friends on the rooftop and the view is beyond outstanding! When the clock strikes 12, clink your wine glass with your partner and wish a very happy new year. Is that how you imagine celebrating the arrival of 2020? Then Dubai has something to better it, like Imagine doing the same in front of the most massive buildings of the century? This celebration will also be broadcasted globally.
Burj Khalifa: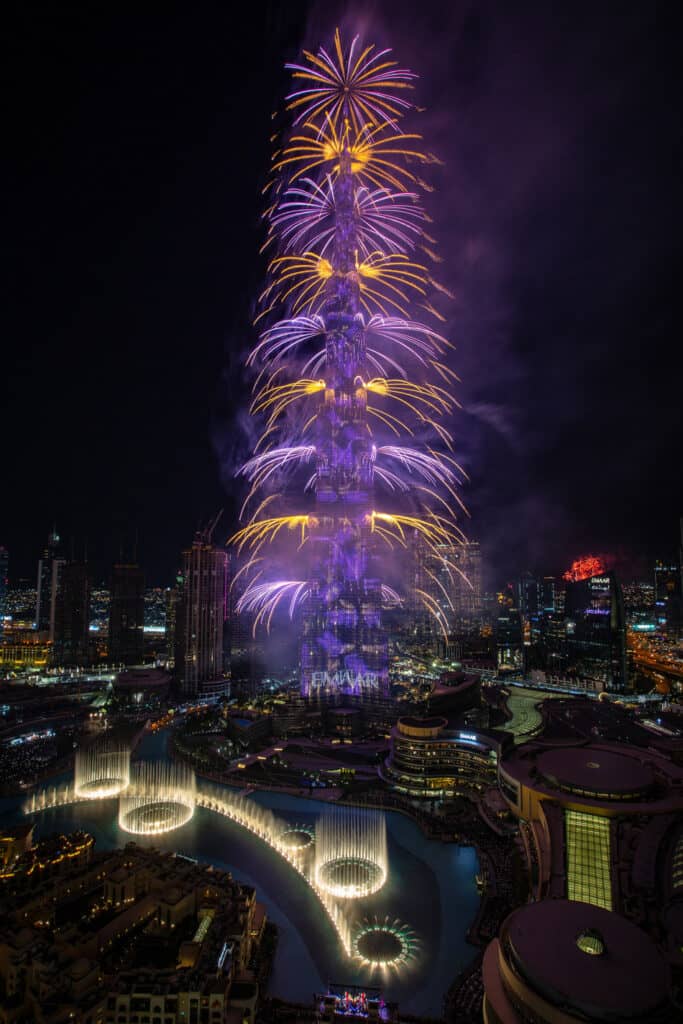 In a beautiful street, which is decorated festively for New Years' with an exotic side-view of Burj Khalifa. When you think to celebrate the new year, the outstanding firework bash at the Burj Khalifa is a jump to come to your mind. This heroic celebration has become a portrait for this occasion, and tourists from all over the world join Dubai residents to enjoy this view every year.
Every year like every year. This golden city of the UAE is set to break records with its fireworks bash at the Burj Khalifa for the arrival of the upcoming year, and crowds are expected to be massive than ever. Finding a place with the perfect view can be an almost impossible task for every single person.