Global Village Dubai - The Star Attraction of Golden City
Posted On 02-Mar-2021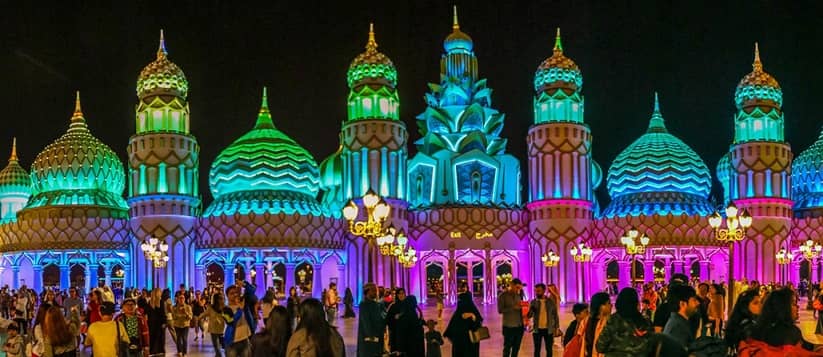 Global village Dubai is a small-scale packed world to explore. Where you will get to discover entertainers, unique things, and crafts to that particular city. Global Village is famous amongst millions and again back with a bang in Dubai. This world's largest tourist entertainment project is welcoming international visitors and locals. Many Street performances, shows, events, or all kinds of entertainment and food are organized there.
Furthermore, you will get to see many clothing, classical handicrafts, artefacts stock from numerous countries hooked up with fun, feast, and fear.
The global village is the city's first entertainment, cultural, and shopping spot for families. That brags diverse art, cultures, cuisine, and theatre. For this, it expects 6 million visitors throughout the year in Dubai city. Check out this blog to find more things to do about the world's largest tourist entertainment project.
Global Village Dubai - Things To Do
1- Catch the Shows & Attends the Events
To experience pure entertainment make sure you attend one of its evening or noon shows. Where the Calendar of events will assist you and let you know what show or event will be ideal for your family. You can join a motor cross show, where the professional riders are thrown into the air while gripping their bikes. Or enjoy the classical show "Dreams", which is regarding 1001 Arabian nights. Moreover, many concerts of famous artists, cultural shows, and kid's performances are performed. No matter which day you have selected, the ultimate fun is guaranteed.
2- Amaze at the Live Performances
The Global Village Dubai's streets are not the regular streets. You will find stages, where the entertainers make the public laugh and smile. There will be LED flashing balls with the drivers, nought camels, jugglers rolling around, and the acrobats. This park needs to ensure your excursion in the middle of countries is pretty much as brilliant and fun as the actual countries.
3- Flavours from all four corners of the Globe
When the food's turn comes, then everyone loves to try exciting and new foods. There are 18 restaurants in the Global Village when you can try food from one stall to another. If you are in the mood to have a light and a quick snack, then walk to the cafe and just pick your best treat from the street. Besides, there are over 100 Kiosks to try in the street. Get admired by Turkish goodies, such as waffles soaked in Nutella, chestnuts (a plate of fries). You absolutely will not go hungry when on your real journey.
4- A Travel to Fantasy Island
Fantasy Island is a perfect place to travel with your kids. Where the section is filled with show games, rides, and coasters. In Fantasy Island, this year new rides were added. Which are the Loop Fighter, Crazy Golf Ride, and the Cape Fear Ghost Train. Besides, the games and the roller coaster are placed for the enjoyment of your family.
5- Grab Some Multinational Memorial
Want to bring some memories to your home? In the Global Village, head to the country structures. Where more than 75 nations are addressed and get some flawless odds and ends. There is additionally a scaled-down goliath candy store, Grand Bazaar, and general stores. Locate another most loved scent, get some new gems, or even a back rub. You will leave with practically nothing after an excursion down World Avenue